Off Mike: A Memoir of Talk Radio and Literary Life (Paperback)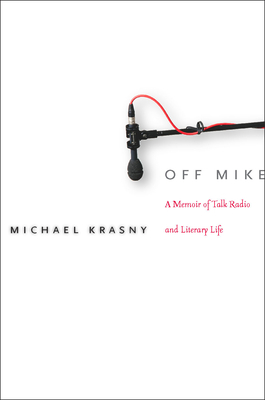 Description
---
KQED Radio's Michael Krasny is one of the country's leading interviewers of literary luminaries, a maestro for educated listeners who prefer their discourse high and civil. He is a writer's interviewer.

But it didn't start out that way.

In Off Mike, Krasny, host of one of public radio's most popular and intellectually compelling programs, talks of his strong desire to become a novelist in the footsteps of Bellow and Philip Roth, and then discovering his real talent as a communicator—a deft ability to draw others out as an interlocutor.

In a mix of memoir and reportage, Krasny takes readers inside his world. He gives an account of the polarizing transformation of talk radio, from his early days at KGO commercial radio, through to his current role at NPR, where he manages to keep the flow of talk in his San Francisco based show animated and politically balanced.

Forum fans and lovers of literature will be riveted by the insightful and amusing vignettes and behind the scenes accounts. They will get a taste of the sharp commentary from his encounters with panels of experts, and interviews with cultural and political personalities as well as writers.


About the Author
---
Michael Krasny is the host and senior editor of Northern California's NPR affiliate KQED's award-winning Forum program, a news and public affairs radio program that also concentrates on current events, culture, health, business and technology, the arts and entertainment. Dr. Krasny is Professor of English at San Francisco State University.
Praise For…
---
"[T]here is great value in the way Krasny articulates the relationship between writing and talk radio . . . In Off Mike, Krasny spices up his memoir with detailed biographic sketches and personal impressions of some of the writers he has interviewed . . . Off Mike is an important book for me. The highest compliment I can pay to the author is to state the simple truth. Michael Krasny, you have achieved your ambition: you are a writer."—Dan Erwin, Bookin' with Sunny

"Off Mike is an insightful homage not only to his craft, at which he has few peers, but also to the impressive litany of writers and personalities who have appeared on his show. He is as thoughtful and gracious on the page as he is behind the mike."—Khaled Hosseini, best-selling author of The Kite Runner

"Krasny agonizes over not having achieved the great dream of his youth—to become 'a respected and valued author.' Now, arguably, he has achieved with nonfiction what he failed to do as a novelist: Off Mike is reminiscent of the enormously entertaining fiction of Herman Wouk and Neil Simon. Even if Krasny is not a bird, his writing soars."—San Francisco Chronicle

"Krasny canonizes his talk radio career in this memoir, placing stories from his juicy backlog of interviews alongside tales of a neglectful father, his Ohio State fraternity, procreating and purchasing a home. His steadily honed love of language is palpable and infectious, suited more to the book party-hopping literary junkie than the broadcast historian. Eminent newsmakers, literary greats and iconoclasts open up to him like patients on a psychiatrists couch... "—Publishers Weekly

"Perhaps the biggest plaudit to give Krasny—who aspired his whole life to be a novelist, but settled for hosting talk radio and television shows, doing live interviews and teaching college—is that this book is well written, and will equally please literati and listeners of commercial radio."—San Jose Mercury News
"Krasny's true literary accomplishment is befriending America's intellectual elite in a public forum, giving the lay audience aural Cliffs Notes of modern classics without condescending to them. In that sense, Krasny is to literature through Off Mike what Al Gore is to global warming in An Inconvenient Truth: a trusted communicator of profundities, whose one excusable mistake is that he tells us more than we wanted to know about himself in the process."—SF Weekly
"Krasny is so well read, such an expansive and acquisitive mind, his writing brims over with tasty anecdotes and snippets of scholarship. Just about every page taught me something or reminded me of something I'd forgotten or pointed to some larger knowledge that I can only aspire to. Only a true man of learning could create a book like this, and only after a lifetime dedicated to his love of writing and the arts."—Pop + Politics
"Michael Krasny is a Bay Area treasure who is nationally recognized for his insightful broadcast journalism. He consistently offers his audience both political wisdom and journalistic excellence." —Nancy Pelosi, Speaker of the U.S. House of Representatives"There are radio hosts who have programs you look to participate in. They are few in number, but Michael Krasny is certainly in that category." —Norman Mailer"Krasny is the best interviewer I have encountered. He has incredible memory. He is able to summarize and extract the essence of every discussion and challenge his guests without making them uncomfortable. He has a deep understanding of the subjects he tackles, and especially of the writing process and literature. He orchestrates his show beautifully, bringing his own insights and cutting to the heart of the matter." —Isabel Allende"Michael Krasny sets the standard by which all public affairs and cultural radio is measured. He is a Bay Area cultural institution." —Michael Chabon
"Michael Krasny is the best interviewer on all things cultural. He's gone tte a tte with leading authors and filmmakers, peacemakers and muckrakers, as well as the icons and innovators of the world. This book is much more than memoir. It seats us behind the mike with Michael, talking to him and some of the most interesting minds of our time." —Amy Tan"Michael Krasny is one of the best interviewers I've ever heard or met. He's serious, erudite, always interested in the substance of an issue, and might be better prepared, day after day, than any general interest host in the world."—Dave Eggers"Krasny's erudition and talent have no boundaries. What he has brought via the spoken word and the entertainment it provides now comes via the written word. It is a gift." —Robert Redford"As all of his listeners know, Michael Krasny is smart, literate, provocative, original and probing, and so this book could not be more welcome." —Michael Beschloss