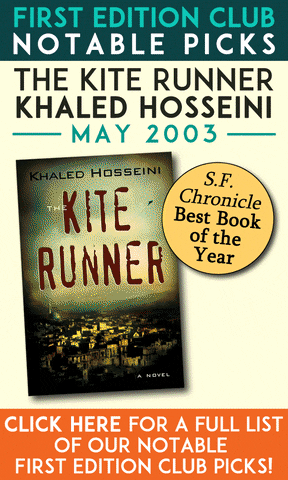 For more information, contact Signed First Editions Club Coordinator Julie Carlucci at jcarlucci@bookpassage.com.
Book Passage Signed First Editions Club is rooted in our desire to share important and noteworthy books, to support books we believe in, and to build meaningful libraries of books we love and push beyond the boundaries of popularity. For the past 40 years, we've embraced that notion of "curating" — we have limited space and we must make deliberate choices in what we serve to our customers. That's the magic of independent bookselling: We choose what books we believe in, and what books we believe our customers will embrace.
Since 2003, our Signed First Edition monthly subscription service has given subscribers the opportunity to receive a delivered, signed first-edition of some of the best, most important, and noteworthy books being published today. We specialize in highlighting debut and unknown authors; to date we have identified over 75 authors who have gone on to win the most prestigious literary awards such as the Pulitzer Prize for Fiction, Man Booker Prize, National Book Award, PEN/Hemingway Award, and many more. Our past selections have included Khaled Hosseini, Daniel Alarcón, Yiyun Li, Ben Fountain, Rachel Kushner, Andrew Sean Greer, Adam Johnson, Celeste Ng, Hanya Yanagihara, Tommy Orange, R.O. Kwon, Tea Obreht, and Emma Donoghue before they were known. Anthony Doerr, our April 2014 selectee, won the Pulitzer for his magnificent novel All the Light We Cannot See. This was followed by our May 2015 pick, The Sympathizer by Viet Thanh Nguyen, which was awarded the 2016 Pulitzer Prize in Fiction.
Two 2016 picks were long-listed for the National Book Award—The Portable Veblen by Eliza-beth McKenzie and News of the World by Paulette Jiles. Washington Black by Esi Edugyan won the Gillen Prize and was a finalist for the Man Booker Prize. Washington Black, along with There, There by Tommy Orange, was also named one of the NYT 10 Best Books of 2018. Many selections—like Abraham Verghese's Cutting for Stone or Amor Towles' A Gentleman in Moscow—have achieved almost legendary appeal. We can't promise every title to be a Pulitzer Prize winner, but we can guarantee a highly satisfactory literary experience.
We intentionally select books to support strong, thoughtful, and provocative writing; to build a literary community; to celebrate and embrace the power of the written word and book. Signed First Edition Membership is an effective way for readers to broaden and cultivate their own literary exploration.
For more information or to register, contact Julie Carlucci at jcarlucci@bookpassage.com.
Click here for a history of our past Signed First Edition Club picks >>
Click here for a history of our Notable First Edition picks >>
...............................................................................................
If you sign up for the Book Passage First Editions Club, we will deliver a signed first edition of a book to your doorstep 12 times a year. The selections will be hand-chosen by a small selective committee, and will include a mix of unknown authors and high potential literary stars.
With each monthly book, we send out a membership email introducing the book and include articles, reviews, author interviews, and any other relevant information relevant to the book or the author. In this newsletter, we also announce the following month's title to help avoid duplicate purchases.
Members are also given first dibs on any notable signed first edition that we have in the store by allowing them to reserve books from all our author events. So even if you live in another city or state, or just can't make it to the in-store event, you can still have access to all signed first editions.
We hope you'll love the books we choose, but in the event that you don't, you can return a selection within two weeks of receiving it.
To sign up, simply fill out the form online, call (415) 927-0969, or feel free to stop by the store, where one of our friendly booksellers will be happy to assist you. All books are charged at list price ($25-$27), plus postage ($6). There are no additional enrollment fees.
Already a First Editions Club member, but need to update or cancel your membership? Give us a call at 415-927-0960 and ask to speak to our First Editions Club Manager, or send an email at jcarlucci@bookpassage.com.
We are excited to offer gift memberships to the Book Passage Signed First Editions Club. As soon as you sign someone up, we will send them a certificate explaining the program and identify you as the generous donor so that they will know who to thank when they start receiving their signed books!'
...............................................................................................
Frequently Asked Questions
What is the Book Passage Signed First Editions Club?
Our Signed First Editions monthly subscription selects and delivers new and exciting literary work each month, signed by the author. The club is a way to discover new books, authors, and build a valuable library.
What is a signed first edition?
The term "first edition" refers to the first printing of the earliest edition of a book. First printing copies are unique because they are the first published record of a book. For collectors, the first edition of a book is the most desired edition, especially if it is signed. If a book wins an award or otherwise earns acclaim or popularity and the book's first printing was relatively small, copies of the first edition can become very valuable, and signed copies even more so.
How do I sign up?
Fill out this online form, call (415) 927-0969 or stop by Book Passage. It can take up to 30 days for the subscription to begin depending on where we are in the schedule. (meaning: you must sign up a full month in advance to be guaranteed the next book pick).
Can I send this as a gift?
Yes, just fill out the online form and indicate who you would like to gift the membership to in the "recipient" field. We will send out an announcement card informing the lucky person of your unique gift.
What subscription plans are available?
There are two different kinds of subscription plans:
The first is an ongoing plan where you receive a signed first edition book every month, for a minimum of three months, after which you can cancel anytime 30 days prior to the next release.

The other type of plan is a gift membership which can be tailored to the number of consecutive months you wish to send a signed first edition.
How much does a membership cost?
For the ongoing subscription, the price is the publisher's list price for the book ($25-$28 on average per month) plus sales tax if applicable. Shipping, if selected, is an additional $6 and is delivered via Media Mail. You may also choose to pick up your selection each month at any Book Passage bookstore at no additional charge.
What sort of books will I receive?
The hardcover, signed first editions are hand-chosen by a select in-house committee with many years of experience in the literary world. Selection focuses on unknown authors and up-and-coming literary writers. A priority is placed on providing a highly satisfactory literary experience as well as illuminating subject matter urgent of our time.
When will I receive my signed first edition?
We ship books as close to their release date as possible. Shipping dates will fluctuate due to the varying release dates of books and author availability for signing. Therefore, you will receive 12 books a year, but not necessarily 30 days apart.
Do I have to provide my credit card number?
Yes. If you sign up for the ongoing subscription,your card will not be charged until we ship each selection.
I received a call/email about an expired/declined credit card. What do I do?
Please call the store at (415) 927-0969 x404 to update your credit card information or email jcarlucci@bookpassage.com. If we are not able to receive updated credit card information within one month, your membership will be cancelled. If you are aware that your credit card will soon expire, or if you receive a new credit card or number in the mail, please contact us so there is no disruption in your membership.
May I return or opt-out of a selection?
When signing up for Book Passage Signed First Editions Club, you agree to be part of a program of curation, with a variety of titles, genres, and styles. We see this as a part of the beauty of the book subscription program and to make this program available, we have to make specific publisher requests for these books many months in advance and plan our orders based on those signed up for the program. But, if there is a title you wish to skip for the month, we provide a one-month advanced notice of the selected title such that you are able to let us know in advance if you do not wish to receive.
I'm signed up to pick my books up in the store. What happens if I forget to retrieve my book?
We will hold books that are marked for pickup at the bookstore for a couple of months. If you do not pick up the book within that time frame we will call to remind you. After an extended time period, we will charge you the flat shipping rate of $5 and ship the books media mail to your home.
What if I am gone from my residence for a long period of time?
Just give us a call and we can update your address information to your current location.
I have a question that isn't answered here. Whom do I ask?
Email jcarlucci@bookpassage.com or call the Corte Madera store at (415) 927-0960.