What exactly is critical race theory? This concise and accessible exploration demystifies a crucial framework for understanding and fighting racial injustice in the United States.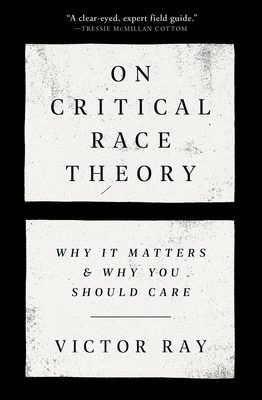 From renowned scholar Dr. Victor Ray, On Critical Race Theory explains the centrality of race in American history and politics, and how the often mischaracterized intellectual movement became a political necessity.

Ray draws upon the radical thinking of giants such as Ida B. Wells, W.E.B. Du Bois, and Dr. Martin Luther King, Jr., to clearly trace the foundations of critical race theory in the Black intellectual traditions of emancipation and the civil rights movement. From these foundations, Ray explores the many facets of our society that critical race theory interrogates, from deeply embedded structural racism to the historical connection between whiteness and property, ownership, and more.

In succinct, thoughtful essays, Ray presents, analyzes, and breaks down the scholarship and concepts that constitute this often misconstrued term. He explores how the conversation on critical race theory has expanded into the contemporary popular conscience, showing why critical race theory matters and why we should all care.
Victor Ray was born in Pittsburgh and raised in western Pennsylvania. After receiving his bachelor of arts in urban studies at Vassar, he earned his PhD from Duke University in 2014. His work has been published in a number of peer-reviewed journals, including American Sociological Review and The Annals of the American Academy of Political and Social Science. Dr. Ray is a nonresident senior fellow at the Brookings Institution and his research has been funded by the Ford Foundation. As an active public scholar, his social and critical commentary has appeared in outlets such as The Washington Post, Newsweek, Harvard Business Review, and Boston Review. Victor Ray currently resides in Iowa City.
---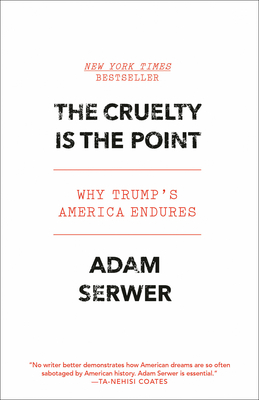 Featuring additional elements: essays on how the Supreme Court undermines justice, and a new epilogue that connects the post-reconstruction narrative with today's political discourse

To many, our most shocking political crises appear unprecedented—un-American, even. But they are not, writes The Atlantic's Adam Serwer in this prescient essay collection, which dissects the most devastating moments in recent memory to reveal deeply entrenched dynamics, patterns as old as the country itself. The January 6 insurrection, anti-immigrant sentiment, and American authoritarianism all have historic roots that explain their continued power with or without President Donald Trump — a fact borne out by what has happened since his departure from the White House.
Serwer argues that Trump is not the cause, he is a symptom. Serwer's phrase "the cruelty is the point" became among the most-used descriptions of Trump's era, but as this book demonstrates, it resonates across centuries. The essays here combine revelatory reporting, searing analysis, and a clarity that's bracing. In this new, expanded version of his bestselling debut, Serwer elegantly dissects white supremacy's profound influence on our political system, looking at the persistence of the Lost Cause, the past and present of police unions, the mythology of migration, and the many faces of anti-Semitism. In so doing, he offers abundant proof that our past is present and demonstrates the devastating costs of continuing to pretend it's not. The Cruelty Is the Point dares us, the reader, to not look away.
Adam Serwer has been a staff writer for the Ideas section of The Atlantic since 2016, focusing on contemporary politics, often viewed through the lens of history. He is the recipient of the 2015 Sigma Delta Chi award for commentary, the 2019 Salute to Excellence award for commentary from the National Association of Black Journalists, and the 2019 Hillman Prize for opinion journalism. He lives in San Antonio, Texas, with his family.
Victor Ray photo courtesy of the author; Adam Serwer photo courtesy of Shorenstein Center, Harvard University

$26.00

ISBN: 9780593446447
Availability: On Our Shelves Now
Published: Random House - August 2nd, 2022
---

$18.99

ISBN: 9780593230824
Availability: Usually Ships in 1-5 Days
Published: One World - September 20th, 2022
---