Saturday, December 13, 2014 - 12:00pm
Special Event for Kids!
"The Gingerbread Man" mixes it up with "The Night Before Christmas" in this cleverly constructed Christmas story about a smart cookie who avoids becoming Santa's midnight snack. The rhyming verses are pitch-perfect in their cadence, with snappy rhyming pairs and bouncy energy just like that of the overactive puppies. Bold illustrations with a variety of perspectives include lots of close-ups of the Gingerbread Boy, drawing readers into his dilemma. The supersized horizontal format and capacious, mostly double-page spreads make this a natural choice for reading to a large group, but it would also work well for a family on Christmas Eve. A Cookie for Santa is a successful mixture of two classic ingredients that yields a sweet Christmas treat.
Stephanie Shaw is the author of Bedtime in the Meadow and Under the Sleepy Stars. She holds a Bachelor of Science Degree in Education and a Master of Arts Degree in Counseling Psychology. Her career has included being a teacher of children with severe emotional disabilities, children's counseling and school administration.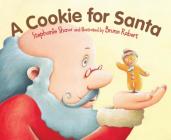 $15.99
ISBN: 9781585368839
Availability: Usually Ships in 1-5 Days
Published: Sleeping Bear Press - June 1st, 2014
In this clever twist on the Night Before Christmas story, a gingerbread boy cookie is carefully crafted and placed on a plate. He was made special to serve as Santa's nighttime snack, a homemade thank-you for all the presents he will deliver. The cookie wonders if he is brave enough to face up to his holiday duty.
---