Special Event for Kids!
The Magic of We is a children's picture book by Danielle Anderson-Craig and illustrated by her friend and fellow teacher (they teach at same school!), Carly Dooling. It is a tender tale of blossoming friendship in which two children meet and are transported into a world where the ordinary becomes fantastic and the known becomes surreal as their shared experience creates unlimited imagination and play. The refrain "Being with you..." reverberates throughout the pages of detailed imagery, lush with color and imagination. A first book for both Anderson-Craig and Dooling, The Magic of We combines the magic of music and the music of words to describe the amazing feeling of finding someone who "fits" you.
Poet and kindergarten school teacher Danielle Anderson-Craig was the longtime love of the late organ and keyboard player Ikey Owens. Anderson-Craig wrote the The Magic of We as an homage and a celebration of connection and closeness. She graduated from the University of Southern California with an American Studies & Ethnicity/Philosophy degree. Her work as an educator of primary school aged children spans over 15 years, with most of her experience in the Montessori environment.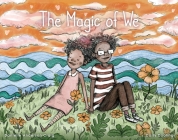 $17.95

ISBN: 9780996401630
Availability: Usually Ships in 1-5 Days
Published: Third Man Books - February 13th, 2018
---