Shelley Lindgren
& Kate Leahy
Italian Wine
The History, Regions, and Grapes of an Iconic Wine Country
In-Person Meet & Greet Book Signing Event • SF Ferry Building Plaza
Sat., December 2nd • 1:00pm PT
Special meet & greet event following Foodwise demo at SF Ferry Building marketplace.
*The signing portion is now also occuring outside of the SF Book Passage store at the SF Ferry Building marketplace.
Journey through all twenty regions of Italy to discover the grapes, terrain, and historical techniques that have influenced modern Italian winemaking in this accessible and stunning guide to Italian wines.

"A brilliant look into the past, present, and future of wine and food in Italy."—Rajat Parr, owner-operator of Phelan Farm and author of Secrets of Sommeliers and The Sommelier's Atlas of Taste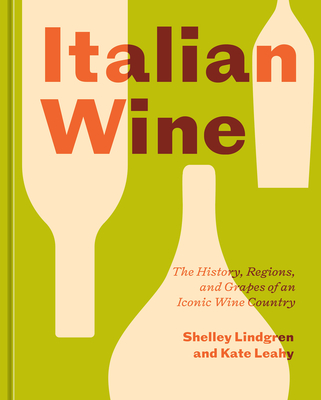 From award-winning sommelier Shelley Lindgren, who has long been recognized (and now knighted!) for her promotion of lesser-known Italian wines, and acclaimed cookbook author Kate Leahy comes a user-friendly and charming guide to Italian wines two decades in the making. The dynamic storytelling duo takes you through a beautifully photographed and delightfully comprehensive journey to understand what Italian wine looks like today: the makers shaping the industry, the innovative ways farmers are adapting to climate change, and the history that paved the path for this current movement.

Travel vicariously through all twenty regions with Leahy and Lindgren and expand your palate beyond Chianti, Pinot Grigio, and Lambrusco. Immerse yourself in the untold stories of how ancient winemaking techniques, the shifts of power and the movement of families, and the terrain and climate have influenced modern Italian winemaking. The curiosity and passion Lindgren and Leahy have is infectious and inviting, and you'll leave with a buzz and a richer understanding of the country's wines.

Let Italian Wine be your in-depth and fun guide into this endlessly fascinating, diverse world of wine.
Shelley Lindgren is the wine director and owner of San Francisco's beloved Italian restaurant A16. She has received the James Beard Award for Outstanding Wine Program; has received the Slow Wine Fair Award for Best Selection of Good, Clean, and Fair Italian Wine; and has been knighted by the Italian government, receiving the prestigious "Cavaliere dell'Ordine Della Stella Italia" (Dott.ssa) distinction for her professional dedication to Italian wine. Shelley's work has been featured in The Wall Street Journal, Food & Wine, Punch, San Francisco Chronicle, and many other publications. She served on the board of La Cocina, the Guild of Sommeliers, and Slide Ranch and is a member of Les Dames d' Escoffier. She lives in San Francisco with her husband, two sons, and a border collie.

Kate Leahy is an author and coauthor of more than a dozen books, including Wine Style, Lavash, La Buvette, and Burma Superstar. Her work has been featured in Food & Wine, Bon Appétit, and Smithsonian Magazine. A former line cook turned writer, she lives in San Francisco with her partner and their corgi.

Shelley and Kate's first book, A16 Food + Wine, was IACP's Cookbook of the Year. They are also coauthors of SPQR: Modern Italian Food and Wine. This is their third book together, a culmination of two decades of traveling to Italy and tasting Italian wines.
Shelley Lindgren photo courtesy of Frankie Frankeny. Kate Leahy photo courtesy of John Lee.

$35.00

ISBN: 9781984857620
Availability: On Our Shelves Now - Click Title for More Details
Published: Ten Speed Press - August 29th, 2023
---