Second Sunday Stories Event!
Second Sunday Stories is a new series of kids picture book events at Book Passage-by-the-Bay in Sausalito. On the second Sunday of each month at 11am we welcome an author or illustrator into the store to share their book with us, there will be snacks and crafts and because it's Sunday morning, you could even come in your pajamas (we don't mind). Second Sunday Stories runs no longer than 45 minutes and is perfect for kids aged 2-6 and their families.
..........................................................................................................................
A healthy ocean is home to many different kinds of animals. They can be big, like a whale, tiny, like a shrimp, and even scary, like a shark. Even though sharks can be scary, we need them to keep the oceans healthy. Unfortunately, due to overfishing, many shark species are in danger of extinction, and that can cause big problems in the oceans and even on land. What would happen if this continued and sharks disappeared completely?
In If Sharks Disappeared, artist Lily Williams explores how the disappearance would affect other animals across the whole planet and details the importance of keeping sharks, and our oceans, healthy.
Lily Williams is an author, illustrator, and storyteller who seeks to inspire change through education. Her work covers many topics, from the trophic cascade in the award-winning animated documentary short film FINconceivable, to menstruation in the webcomic The Mean Magenta and upcoming graphic novel, Go With The Flow (First Second, 2019). Lily believes in the power of making information fun, educational, and accessible for all audiences. Lily grew up in Northern California where she graduated from California College of the Arts with a B.F.A. in Animation. She spent time working in feature film animation in Los Angeles before diving into freelance full time. When she isn't creating, Lily can be found dreaming about the smell of cold winter air, listening for the sound of airplanes on a rainy day, playing with her rescue rabbits (Owen and Oliver), and perfecting her waffle recipe.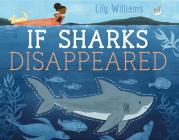 $18.99

ISBN: 9781626724136
Availability: Usually Ships in 1-5 Days
Published: Roaring Brook Press - May 23rd, 2017
---