Featuring a mouthwatering reception catered by Georgeann Brennan:

"I'm going to serve L'Apero les Trois' version of Vin d'Orange, a favorite aperitif in homes across Provence. Our version is made with Berryessa Gap Vineyards Rose wine and infused with the zest of local navel oranges and rosemary to produce the classic hint of bitter in Vin d'Orange which in Provence is made with bitter Seville Oranges. We'll top it off with a splash of Berryessa Gap Vineyards Brut Rose for an extra festive drink. We'll also serve our black olive tapenade on toasts, another Provencal favorite and a perfect pairing with the aperitif."
Where Time Begins
It's 1976, and Shelley Ilillouette, unemployed and without prospects, has never heard of the Kingdom of Tonga — but when an artist offers her a job in this South Pacific kingdom, she takes it.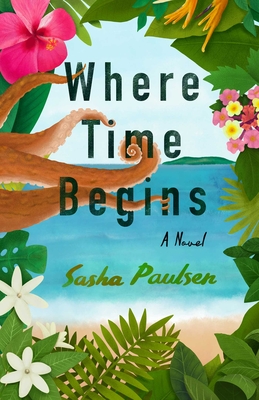 She arrives in Tonga to discover that her employer has vanished. Alone in a bewildering world where ancient Polynesia mingles with missionaries, Peace Corps, and yacht dwellers, she is adopted by Foeata, a genial Tongan who decides that a mafu — a sweetheart — will solve Shelley's problems. Foeata favors the Peace Corps doctor, Skip, but he is smitten with Lily, a mysterious half-Tongan actress. Then Shelley's first and only lover, Jackson, follows her to the islands, and life only get more complicated.
When Lily goes missing, too, and Jackson's visit proves disastrous, Shelley has to admit that she has not escaped from anything; she has just brought all the confusion of life with her.
Why, Foeata wonders, are Americans so bad at love?
Amidst encounters with sharks and one octopus (meetings far less harrowing than those she has with missionaries and ex-lovers over the course of her adventure), Shelley untangles a web of stories reaching back decades, leading her to conclude that Tonga may indeed be what its king has proclaimed: the place where time begins.
Sasha Paulsen has worked as a journalist since graduating from the University of California at Berkeley's School of Journalism. She lives and works in the Napa Valley where she grew up. "Dancing on the Spider's Web" is her first novel.
---
A Pig in Provence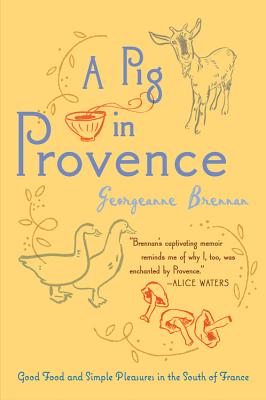 Georgeanne Brennan's celebrated food memoir, A Pig in Provence, first published in 2007, is ostensibly about raising goats and pigs and learning to make and sell cheese, but at its heart it is the chronicle of a search for home, and the inner peace that a place, once found, can provide. Called a 'talented storyteller' by the San Francisco Chronicle, Georgeanne regales her readers with tales of failure and success, of belonging and discovery, eventually finding her place in the small, rural community deep in Provence.
Georgeanne is the author of more than thirty cookbooks, including The Food and Flavors of Haute Provence, for which she won a James Beard Award and her best-selling food memoir, A Pig in Provence, both from Chronicle books. She has authored numerous cookbooks for Williams-Sonoma, including Salad 365 Days of the Year (Weldon-Owen, 2018, revised edition). She recently partnered with a winery and a winemaker to create L'Apero les Trois, a range of French farmhouse style aperitif wines, which she learned to make while living in France. She wrote about them in Aperitif, (Chronicle Books) which won an International Association of Culinary Professionals award. She still owns her house in Provence and travels there frequently, but spends most of her time in Winters where she oversees L'Apero les Trois' Tasting Room in downtown Winters.
Sasha Paulson photo courtesy of the author; Georgeanne Brennan photo courtesy of Craig
Location:
Book Passage Corte Madera
51 Tama Vista Blvd

$16.95

ISBN: 9781647424138
Availability: On Our Shelves Now - Click Title for More Details
Published: She Writes Press - July 5th, 2022
---

$18.99

ISBN: 9780156033244
Availability: On Our Shelves Now - Click Title for More Details
Published: Harvest - April 7th, 2008
---