Pigeon Watching:
Getting to Know the World's Most Misunderstood Bird
Mon., Nov. 15 • 5:30pm PT • Live • Online
In conversation with Kira Jane Buxton
Part field guide, part history, part ornithology primer, and altogether fun.
Fact: Pigeons are amazing, and until recently, humans adored them. We've kept them as pets, held pigeon beauty contests, raced them, used them to carry messages over battlefields, harvested their poop to fertilize our crops — and cooked them in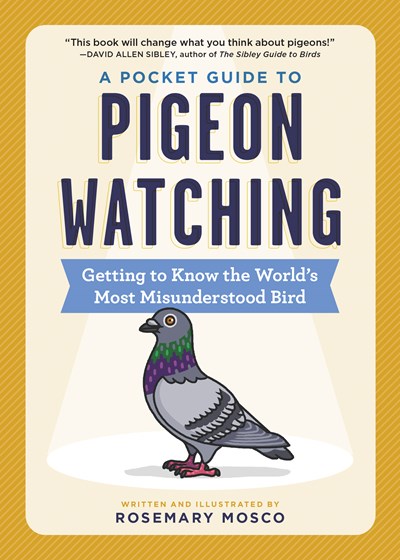 gourmet dishes. Now, with The Pocket Guide to Pigeon Watching, readers can rediscover the wonder. Equal parts illustrated field guide and quirky history, it covers behavior: Why they coo; how they flock; how they preen, kiss, and mate (monogamously); and how they raise their young (on chunky pigeon milk). Anatomy and identification, from Birmingham Roller to the American Giant Runt to the Scandaroon. Birder issues, like what to do if you find a baby pigeon stranded in the park. And our lively shared story together, including all the things we've taught them — Ping-Pong, for example. "Rats with wings?" Think again.
Pigeons coo, peck and nest all over the world, yet most of us treat them with indifference or disdain. So Rosemary Mosco, a bird-lover, science communicator, writer, and cartoonist (and co-author of The Atlas Obscura Explorer's Guide for the World's Most Adventurous Kid ) is here to give the pigeon's image a makeover, and to help every town- and city-dweller get closer to nature by discovering the joys of birding through pigeon-watching.
Rosemary Mosco is a science communicator, acclaimed cartoonist, and speaker on all things bird. Her Bird and Moon nature comics were the subject of an award-winning museum exhibit and are collected in a book that's a 2019 ALA Great Graphic Novel for Teens. She co-wrote The Atlas Obscura Explorer's Guide for the World's Most Adventurous Kid, a New York Times bestseller. She also writes for Audubon and the PBS kids' show Elinor Wonders Why. Mosco is a beloved speaker at birding festivals. Past talks have included keynotes for the Rio Grande Birding Festival, the San Diego Bird Festival, the Great Salt Lake Bird Festival, and the Klamath Falls Winter Wings Festival, plus talks for Harvard's Arnold Arboretum, Caveat NYC, Birds of Vermont Museum, Ithaca College, various birding clubs, and many others.
Kira Jane Buxton's writing has appeared in the New York Times, NewYorker.com, McSweeney's, The Rumpus, Huffington Post, and more. Her debut novel Hollow Kingdom was an Indie Next pick, a finalist for the Thurber Prize for American Humor, the Audie Awards and the Washington State Book Awards, and was named a best book of 2019 by NPR, Book Riot, and Good Housekeeping. She calls the tropical utopia of Seattle home and spends her time with three cats, a dog, two crows, a charm of hummingbirds, five Steller's jays, two dark-eyed juncos, two squirrels, and a husband.
Rosemary Mosco photo by Adrianne Mathiowetz; Kira Jane Buxton photo courtesy of the publisher

$14.95

ISBN: 9781523511341
Availability: On Our Shelves Now
Published: Workman Publishing Company - October 26th, 2021
---

$28.00

ISBN: 9781538735244
Availability: On Our Shelves Now
Published: Grand Central Publishing - August 24th, 2021
---