Robb Pearlman
Happy Little Night Before Christmas
Thurs., Nov. 4 • 1:00pm PT • Live • Online
In conversation with Heather Butterfield
Signed Bookplates Available!

An instant holiday classic. A happy little Christmas miracle.
Even after more than 20 years since his death, pop culture icon, painter, host, and teacher Bob Ross has never been more heralded than he is today. His memorable quotes, friendly face, and signature hairstyle grace merchandise and memes around the world. But the greatest things that make Bob as beloved as he is are, ultimately, his core values and his peaceful, joyful demeanor that encouraged his students and viewers to not only appreciate their natural talents but to appreciate the natural world around them.
Bob was, in many respects, the embodiment of the classic holiday spirit which encourages peace on Earth and good will toward men. Now, for the first time and inspired by the classic Clement C. Moore story, this fully authorized tale of a painter and his little squirrel friend on a cold winter night pairs Bob Ross' most beautiful wintertime landscapes with a meditation on embracing your inner creativity, the beauty of nature, and the feelings of peace, friendship, and harmony that blanket the entire holiday season like a happy little snowfall.
Perfect for families, fans, and painters of all ages, Bob Ross's Happy Little Night Before Christmas is the perfect addition to any holiday tradition.
Robb Pearlman is a #1 New York Times bestselling author, editor, and pop culturalist. He has written more than 30 books, including Bob Ross and Peapod the Squirrel, Bob Ross: My First Book of Colors, The Bob Ross Cookbook, The Bob Ross Happy Little Creativity Journal, Bob Ross By the Numbers, and Life Lessons from Bob Ross.
Heather Butterfield is the Marketing Director at Smart Pop, BenBella Books' pop culture imprint. She has worked in book publishing for over ten years as an editor, marketer, and award-winning graphic designer. Heather has an MA in Publishing and Writing from Emerson College and currently resides in Los Angeles.
Bob Ross (1942–1995) was an American painter, art instructor, and the creator and host of PBS's The Joy of Painting, an instructional painting technique television series that originally ran from 1982 until 1994.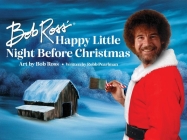 $17.00

ISBN: 9781637740187
Availability: On Our Shelves Now
Published: Smart Pop - October 19th, 2021
---