Michael Genhart
May Your Life Be Deliciosa and They're So Flamboyant
Two picture books presented by The Writing Barn
Sat., Sept. 25, 2021 • 10:00am PT • Live • Online
In conversation with Loris Lora, Tony Neal, & Bella Noche
BUY MAY YOUR LIFE BE DELICIOSA BUY THEY'RE SO FLAMBOYANT REGISTER (FREE)

Join the Writing Barn to celebrate the release of two picture books by author Michael Genhart: May Your Life Be Deliciosa, illustrated by Loris Lora, and They're So Flamboyant, illustrated by Tony Neal. The author and illustrators will be joined by special guest Bella Noche.
Hear the inspiration behind the writing of both books (accompanied by music), listen to book readings, hear from both illustrators about their craft and creating the illustrations for these books, and participate in a Q&A. Families, friends, librarians, readers—all are welcome!
May Your Life Be Deliciosa is a delicious and fortifying picture book inspired by the author's family, featuring the Mexican tradition of holiday tamale-making.
"Where is the recipe?" I ask. Abuela laughs. "It is in my heart, Rosie. I use mis ojos, my eyes, to measure. Mis manos, my hands, to feel. Mi boca, my mouth, to taste. My abuela gave it to me, and I am giving it to you." Each year on Christmas Eve, Rosie's abuela, mamá, tía, sister, and cousins all gather together in Abuela's kitchen to make tamales—cleaning corn husks, chopping onions and garlic, roasting chilis, kneading cornmeal dough, seasoning the filling, and folding it all—and tell stories. Rosie learns from her abuela not only how to make a delicious tamale, but how to make a delicious life, one filled with love, plenty of spice, and family.
flam·boy·ant – a person (or bird!) who tends to attract attention because of their confidence, exuberance, and stylishness
They're So Flamboyant is a fun and funny bird's-eye tome to individuality, community, and harmony follows the reactions of a neighborhood full of birds when a "flamboyance" of flamingos moves in. Each band of birds—a gaggle of geese, a dole of doves, a charm of finches, a brood of chickens, a scream of swifts, and an unkindness of ravens—all have their feathers ruffled and express their apprehension about the new and different arrivals. Bright pink colors, long legs, how dare they! Even a watch of nightingales patrols after dark. When the band of jays decides it is time to settle down the neighborhood, the pride of peacocks takes the lead, with support from a waddle of penguins, a venue of vultures, a mob of emus, and a gulp of cormorants. Finally, they all land at the flamingos' welcome party only to realize that they had all been birdbrained. Their new neighbors are actually quite charming, and not so scary and different after all. Includes a note from the author on helping children to learn about acceptance, avoid stereotyping, and model welcoming behavior.
Michael Genhart, PhD is a licensed clinical psychologist in private practice in San Francisco where he sees children, teens, and adults, specializing in matters impacting the LGBTQ+ community. He is also the author of several picture books, including May Your Life Be Deliciosa and They're So Flamboyant. Other recent releases include Accordionly: Abuelo and Opa Make Music, Rainbow: A First Book of Pride, and Love Is Love. Michael is a SCBWI Marin County Co-Coordinator. He is represented by Nicole Geiger of Full Circle Literary. Check out his books at www.michaelgenhart.com.
Loris Lora is a Los Angeles based illustrator and designer. She is a multi-disciplinary artist who has worked with various publications, surface design, and featured in galleries across the globe. Her work is largely inspired by her Mexican upbringing and appreciation of mid-century design.
Tony Neal is an illustrator from south Leicestershire, England. His passion for art and illustration has led him to a blooming career in children's book illustration where he now creates works for various publishing houses and clients worldwide. Tony's work is inspired by everyday life and the quirky details that surround us. He loves to create charming characters in whimsical scenes and telling stories with his pictures.
Bella Noche, New York City's premiere mermaid queen, lures onlookers in with her fantastical spark of color, creativity and charisma. With a combination of both beauty and brains, you'll become part of her world before you know it, hook line and sinker. When on land, she regularly participates in Drag Queen Story Hour, reading books to children.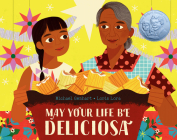 $17.99

ISBN: 9781951836221
Availability: On Our Shelves Now
Published: Cameron Kids - September 14th, 2021
---

$14.99

ISBN: 9781433832789
Availability: On Our Shelves Now
Published: Magination Press - October 19th, 2021
---