............................................................................................................................................................................................................
Book Passage Presents
Wed., June 23, 2021 • 5:30pm PT • Live • Online
Nina Renata Aron's Good Morning, Destroyer of Men's Souls is a scorching memoir of a love affair with an addict—weaving personal reckoning with psychology and history to understand the nature of addiction, codependency, and our appetite for obsessive love.
"The disease he has is addiction," Nina Renata Aron writes of her boyfriend, K. "The disease I have is loving him." Their love affair is dramatic, urgent, overwhelming—an intoxicating antidote to the long, lonely days of early motherhood. Soon after they get together, K starts using again, and years of relapses and broken promises follow. Even as his addiction deepens, she stays, convinced she is the one who can get him sober. After an adolescence marred by family trauma and addiction, Nina can't help but feel responsible for those suffering around her. How can she break this pattern? If she leaves K, has she failed him? Writing in prose at once unflinching and acrobatic, Aron delivers a piercing memoir of romance and addiction, drawing on intimate anecdotes as well as academic research to crack open the long-feminized and overlooked phenomenon of codependency. She shifts between visceral, ferocious accounts of her affair with K and introspective analyses of the part she plays in his addictions, as well as defining moments in the history of codependency, from the temperance movement to the formation of Al-Anon to more recent research in the psychology of addiction. Good Morning, Destroyer of Men's Souls is a blazing, bighearted book that illuminates and adds nuance to the messy tethers between femininity, enabling, and love.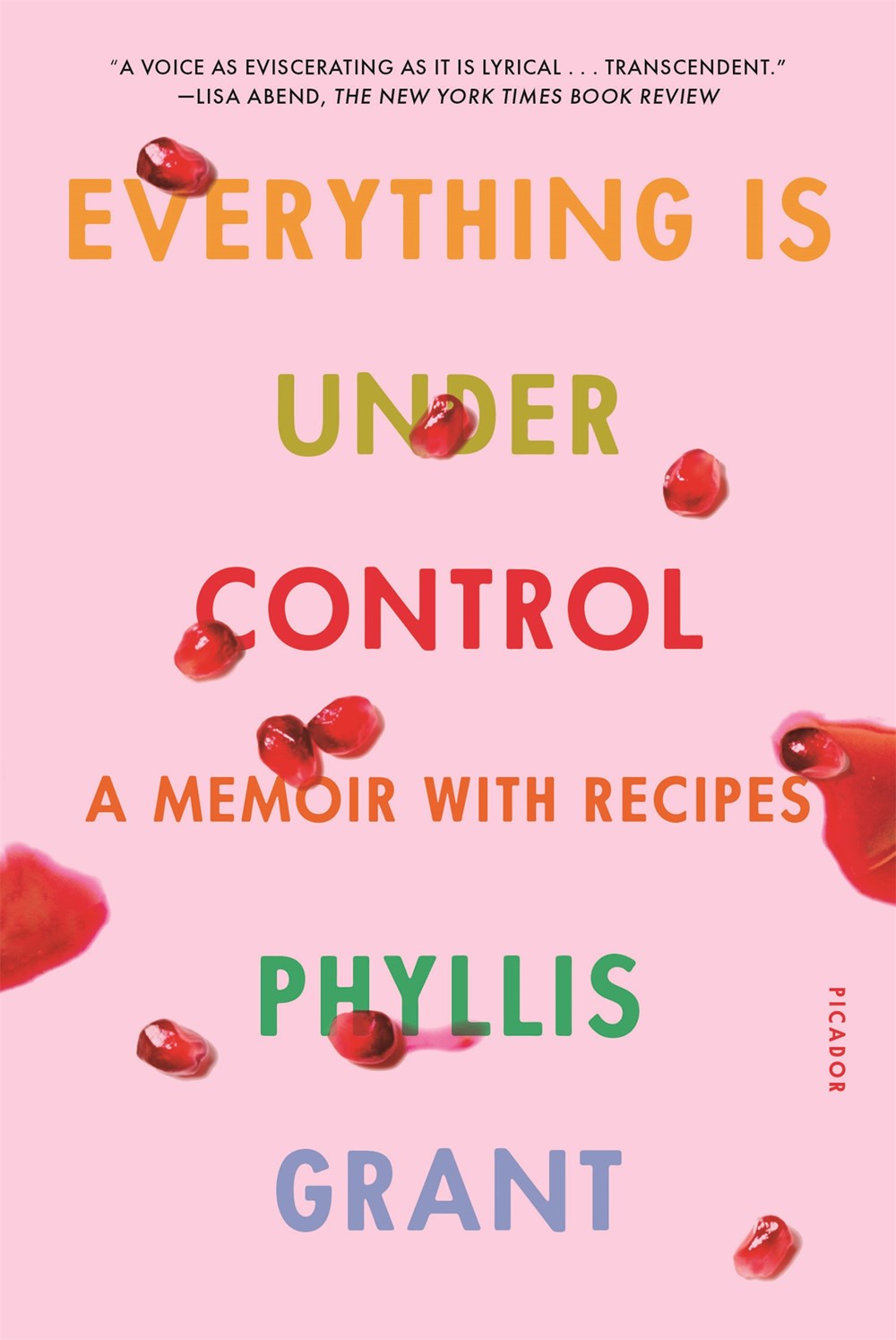 Phyllis Grant's Everything Is Under Control is a memoir about appetite as it comes, goes, and refocuses its object of desire. Grant's story follows the sometimes smooth, sometimes jagged, always revealing contours of her life: from her days as a dancer struggling to find her place at Julliard, to her experiences in and out of four-star kitchens in New York City, to falling in love with her future husband and leaving the city after 9/11 for California, where her children are born. All the while, a sense of longing pulses in each stage as she moves through the headspace of a young woman longing to be sustained by a city into that of a mother now sustaining a family herself.
Written with the transparency of a diarist, Everything Is Under Control is an unputdownable series of vignettes followed by tried-and-true recipes from Grant's table—a heartrending yet unsentimental portrait of the highs and lows of young adulthood, motherhood, and a life in the kitchen.
Nina Renata Aron is a writer and editor living in Oakland, California. Her work has appeared in The New York Times, The New Republic, the Los Angeles Review of Books, and elsewhere.
Phyllis Grant is an IACP finalist for Personal Essays/Memoir Writing and a three-time Saveur Food Blog Award finalist for her blog, Dash and Bella. She has cooked in world-renowned restaurants, including Nobu, Michael's, and Bouley. Her essays and recipes have been published in a dozen anthologies and cookbooks, including Best Food Writing in both 2015 and 2016. Her work has been featured in Esquire, O, The Oprah Magazine, The New York Times, Real Simple, Saveur, HuffPost, Time, San Francisco Chronicle, Food52, and Salon. She lives in Berkeley, California, with her husband and two children.
Nina Renata Aron photo by Tai Power Seeff; Phyllis Grant photo by Matt Ross

$17.00

ISBN: 9780525576686
Availability: On Our Shelves Now - Click Title for More Details
Published: Crown - April 20th, 2021
---

$17.00

ISBN: 9781250787361
Availability: Usually Ships in 1-5 Days
Published: Picador - April 6th, 2021
---