Sunday, February 8, 2015 - 1:00pm
Special Event for Chinese New Year!
In this Chinese American retelling of "Goldilocks and the Three Bears," a careless Goldy Luck wreaks havoc on the home of a family of panda bears. She eats up the littlest panda's rice porridge, breaks his rocking chair, and rumples all the blankets on his futon. When Goldy takes responsibility for her actions, she makes a new friend (and a whole plate of turnip cakes!) just in time for Chinese New Year.
Natasha Yim is the author of Sacajawea of the Shoshone (Goosebottom, 2012), Cixi, "The Dragon Empress" (Goosebottom, 2001), and Otto's Rainy Day. She lives in Ukiah, California, with her family.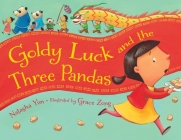 $16.95
ISBN: 9781580896528
Availability: Usually Ships in 1-5 Days
Published: Charlesbridge - January 7th, 2014
A favorite fairy tale set in a bustling contemporary Chinatown.

It's Chinese New Year, and Goldy Luck's mother wants her to take a plate of turnip cakes to the neighbors. The Chans aren't home, but that doesn't stop Goldy from trying out their rice porridge, their chairs, and their beds—with disastrous results.

---