Minda Harts
Right Within:
How to Heal from Racial Trauma in the Workplace
In conversation with Meena Harris
Wed., Oct. 13, 2021 • 3:00pm PT • Live • Online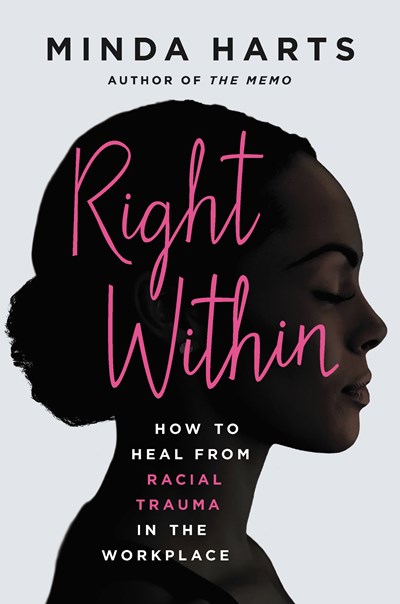 From the powerhouse author of  The Memo, the essential self-help book for women of color to heal—and thrive—in the workplace.
In workplaces nationwide, women of color need frank talk and honest advice on how to deal with microaggressions, heal from racialized trauma, and find relief from invisible workplace burdens. Filled with Minda Harts's signature wit and warmth,  Right Within  offers strategies for women of color to speak up during racialized moments with managers and clients, work through past triggers they may not even know still cause pain, and reframe past career disappointments as opportunities to grow into a new path.
Through action points, exercises, and clear-eyed coaching, Harts encourages women to summon hidden reserves of strength and courage. She includes advice from therapists and faith leaders of color on a full range of ways to heal. Right Within  will help women of color strengthen their resolve across corporate America, ensuring that we can all, finally, rise together. 
Minda Harts is the CEO of The Memo LLC, a career development platform for women of color, a Professor of Public Service at NYU Wagner, and the author of The Memo. She has been featured on MSNBC's Morning Joe and Fast Company, and speaks at Fortune 500 companies including Microsoft, Levi's, and Google. In 2020 she was named a LinkedIn Top Voice, and in 2018, she was named one of 25 Emerging Innovators by American Express. She hosts the podcast Secure the Seat, and lives in New York City.
Meena Harris is one of the most powerful and dynamic young leaders in America. As the founder of the groundbreaking Phenomenal brand, as well as an author, lawyer, and producer, Meena is a respected entrepreneur and an influential voice for gender equity. Meena's legal expertise is in the areas of consumer protection, data privacy, and cybersecurity. A #1 New York Times bestselling author, Meena released her latest book, Ambitious Girl, in January 2021. Meena has been featured in The New York Times, The Washington Post, Harper's Bazaar, Adweek, and more. She is a graduate of Stanford University and Harvard Law School, and currently resides in San Francisco with her partner and two daughters.
Minda Harts photo by NSP Studio; Meena Harris photo by María del Río

$27.00

ISBN: 9781541619623
Availability: Usually Ships in 1-5 Days
Published: Seal Press - October 5th, 2021
---

$18.99

ISBN: 9780316229692
Availability: Usually Ships in 1-5 Days
Published: Little, Brown Books for Young Readers - January 19th, 2021
---