---
Join beloved local children's book authors Michael Genhart, Aida Salazar and Robert Liu-Trujillo in a fun reading celebration of Latine Heritage Month at Book Passage.
Spanish Is the Language of My Family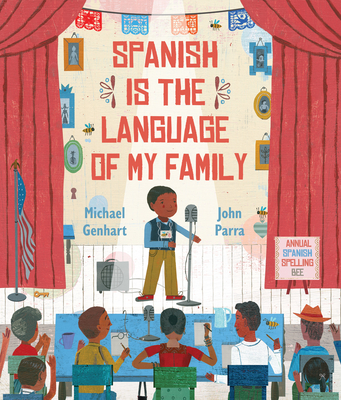 An intergenerational story of family ties, cultural pride, and spelling bee victory following a young boy who bonds with his beloved abuela over a love of Spanish.

As a boy prepares for his school's Spanish spelling bee, he asks his grandmother for help with some of the words he doesn't know how to spell yet. When she studies with him, she tells him how different things were back when she was a girl, when she was only allowed to speak English in school. This only inspires him to study even harder and make his family proud.

Based on stories author Michael Genhart heard from his mother as a child, Spanish is the Language of My Family is about the joy of sharing cultural heritage with our families, inspired by the generations of Latino people were punished for speaking Spanish and the many ways new generations are rejuvenating the language..

Michael Genhart's text is as touching as it is poignant, and it's paired with the striking artwork of multiple Pura Belpre Award-Winning Illustrator John Parra. Extensive material at the back of the book includes essays from the author about the history of Spanish suppression in U.S. schools and information about the Spanish alphabet.

A Junior Library Guild Gold Standard Selection
Michael Genhart's text for Spanish is the Language of My Family is inspired by stories his mother told to him as a child. He is a clinical psychologist and the author of eight picture books including Love Is Love (a Notable Social Studies Trade Book) and Rainbow: A First Book of Pride, which Publishers Weekly called "A joyous tribute to LGBTQ families." He lives with his husband in Marin County. They are the proud parents of a newly minted 5th grade teacher. When he's not working or writing, you'll find Michael gardening, on a hike, sitting around a dinner table with friends and family, traveling to different countries, enjoying live theatre and music, or sitting in a quiet space with a wonderful book.
Jovita Wore Pants: The Story of a Mexican Freedom Fighter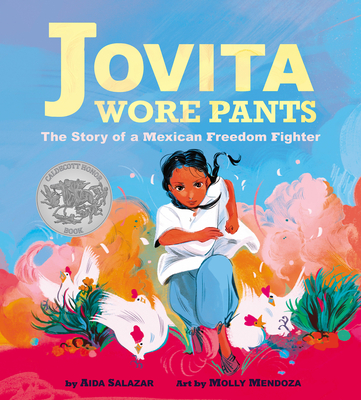 The remarkable true story of Jovita Valdovinos, a Mexican revolutionary who disguised herself as a man to fight for her rights!
* "Graceful . . deft . . . mesmerizing. . . . Bravery and determination prevail in this inspiring tale." — Kirkus Reviews, starred review
* "Gorgeous…hits the perfect balance of lively and lyrical...outstanding." — School Library Journal, starred review
* "Exquisite prose. . . . stunning spreads." — BookPage, starred review
Jovita dreamed of wearing pants! She hated the big skirts Abuela made her wear. She wanted to scale the tallest mesquite tree on her rancho, ride her horse, and feel the wind curl her face into a smile
When her father and brothers joined the Cristero War to fight for religious freedom, Jovita wanted to go, too. Forbidden, she defied her father's rules – and society's – and found a clever way to become a trailblazing revolutionary, wearing pants!
This remarkable true story about a little-known maverick Mexican heroine is brought vividly to life by her great-niece and Américas Award–winner Aida Salazar, and Eisner Award–honoree Molly Mendoza.
Aida Salazar is an award-winning author and arts activist whose writings for adults and children explore issues of identity and social justice. She is the author of the middle-grade verse novels The Moon Within (International Latino Book Award Winner), Land of the Cranes (Américas Award Winner), the picture book anthology, In the Spirit of a Dream, and the picture book biography Jovita Wore Pants: The Story of a Mexican Freedom Fighter. She is a founding member of Las Musas, a Latinx kidlit debut author collective. Her short story "By the Light of the Moon" was adapted into a ballet production by the Sonoma Conservatory of Dance and is the first Xicana-themed ballet in history. She lives with her family of artists in a teal house in Oakland, California.
Fresh Juice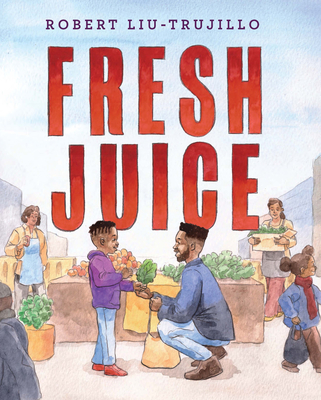 What makes a great juice that keeps everyone healthy? Art and his dad discover it takes carrots... collards... cayenne... and community
When Art's father can't get over a cold, Art knows exactly what his daddy needs: some delicious sick-fighting juice After looking through the fridge and cupboards, they discover they're missing a key ingredient--ginger. But finding some ginger will take them downtown, to the farmers' market, to the food co-op, to the West African grocery... to an unexpected encounter that brings everyone together, and results in a tasty celebration.
Author-illustrator Rob Liu-Trujillo's warm and vibrant watercolor illustrations are a celebration of mixed families and the many individuals who help make a neighborhood feel like a community. Fresh Juice is a delightful, kid- and community-centered picture book that will leave you thirsty for more
Also available in Spanish as Jugo fresco
Robert Liu-Trujillo is the author-illustrator of Furqan's First Flat Top and the illustrator of many picture books, including Alejandria Fights Back. When he was a kid, his dad made fresh wheatgrass juice and his stepfather juiced fruits and vegetables. Now as a husband and father, Robert makes fresh juice for his family. He lives in Oakland, California, with his wife and two kids. Visit him online at work.robdontstop.com.
Location:
Book Passage Corte Madera
51 Tamal Vista Blvd