The mid-century linen postcard, recognized for its color-saturated hues and textured finish, evolved as a rare hybrid of the mediums of photography, painting, and mass printing. New West, a comprehensive publication of this popular art form, explores the evolution of the American West through these vibrant and compelling images.
The American West is renowned for its unique and spectacular natural scenery. While early images depicting vast expanses of unsettled land still persist, today, contemporary westerners are far more likely to live in cities than in the wild. New West celebrates the preexisting geography of the landscape, as well as its high-speed transformation to suit man's need for growth, commerce, transportation, entertainment, arts, education, and public life. Looking through the lens of four waves of innovation; steam, steel, oil, and information, this book also asks the ultimate question of any exploration
of history: What innovation is next?
Wolfgang Wagener is an international architect and strategy advisor for real estate development. He is a member of the American Institute of Architects, the Royal Institute of British Architects, and a lifetime member of the Society of Architectural Historians, Southern California Chapter.
Leslie Erganian is a Chicago-born, California-bred artist and writer. Her hand-colored photographs are housed in the permanent collection of the Xerox Corporation and the California Museum of Photography. She contributed her design talents to the production of film and television for clients including Warner Bros., DreamWorks, MGM, PBS and Showtime.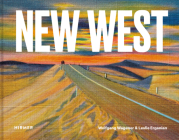 $65.00
Email or call for price
ISBN: 9783777431895
Published: Hirmer Publishers - October 18th, 2019
---