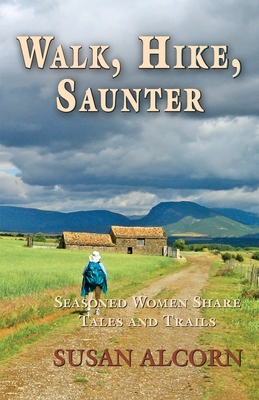 Book Passage & Left Coast Writers® Presents
Susan Alcorn
Walk, Hike, Saunter
Sat., November 13, 2021 • 2:00pm PT • Live • Book Passage Patio
In Walk, Hike, Saunter, long-distance hiker Susan Alcorn introduces you to 32 experienced outdoors women who consider hiking to be an essential part of their lives. Their stories are told with honesty, insight and humor. They share their wisdom and proven tips to inspire women and men of all ages.
Some, but not all, were introduced to the outdoors as children. A few hated those early camping trips, others reveled in them. Several found their passion for adventurous travel later in life and went on to hike thousands of wilderness miles.
The common theme of Walk, Hike, Saunter is that there are many paths to incorporating hiking into your life. Whether hiking is one of many things that you enjoy doing, or whether you find hiking such an passion that you don't mind living out of your car in order to pursue it--you can reap the rewards of exploring the world on foot.
The women, all 45 and older and in the prime of their lives, are all superstars--shining examples of the richness that hiking can bring to our lives. There's no doubt about it--walking and hiking are excellent ways to improve or maintain physical and mental health; in general they increase longevity. They are great ways to enjoy the camaraderie of the trail, or to go solo and foster greater independence. We are lucky to live in these times with an unprecedented number of women on our trails. We are living in an age where we have golden opportunities to explore trails throughout the world.
Simply begin with walking because as we immerse ourselves in nature, enjoy new vistas, and explore interesting cultures our lives will be enriched.
Susan Alcorn was born in Oregon, but has lived in the San Francisco Bay Area for most of her life. She loves it here! Since the bay has moderate weather pretty much year round, she can hike year round. And, luckily, she has regional, state, and federal parks where she can enjoy nature and keep in shape.
Ever since she retired from teaching elementary school in 2001 (at age 60), she and her husban have been hiking more and more. They have section-hiked the 2,650-mile Pacific Crest Trail (goes through California, Oregon, and Washington), completing it in 2010. They've also completed over 3,000 miles of Camino trails in Spain, France, and Portugal. They climbed Tanzania's Mount Kilimanjaro in 2007, and backpacked the Circuit Route in Torres del Paine National Park, Chile (Patagonia) in 2010. In 2017 they passed the 6000 mile mark on total long distance trails hiked.
Both of them think that hiking is an excellent activity for people of all ages. It provides both physical and mental health benefits. It certainly has been very good for them and it has been an excellent way to see the world. They intend to continue as long as we can!

$19.95

ISBN: 9780936034072
Availability: Usually Ships in 1-5 Days
Published: Shepherd Canyon Books - November 1st, 2020
---