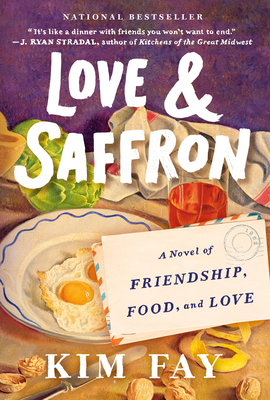 Kim Fay
in conversation with Jasmin Darznik
Love & Saffron
Sun., Feb. 27 • 1:00pm PT
Corte Madera Store
In the vein of the classic 84, Charing Cross Road and Meet Me at the Museum, this witty and tender novel follows two women in 1960s America as they discover that food really does connect us all, and that friendship and laughter are the best medicine.
When twenty-seven-year-old Joan Bergstrom sends a fan letter--as well as a gift of saffron--to fifty-nine-year-old Imogen Fortier, a life-changing friendship begins. Joan lives in Los Angeles and is just starting out as a writer for the newspaper food pages. Imogen lives on Camano Island outside Seattle, writing a monthly column for a Pacific Northwest magazine, and while she can hunt elk and dig for clams, she's never tasted fresh garlic--exotic fare in the Northwest of the sixties. As the two women commune through their letters, they build a closeness that sustains them through the Cuban Missile Crisis, the assassination of President Kennedy, and the unexpected in their own lives.
Food and a good life—they can't be separated. It is a discovery the women share, not only with each other, but with the men in their lives. Because of her correspondence with Joan, Imogen's decades-long marriage blossoms into something new and exciting, and in turn, Joan learns that true love does not always come in the form we expect it to. Into this beautiful, intimate world comes the ultimate test of Joan and Imogen's friendship—a test that summons their unconditional trust in each other.
A brief respite from our chaotic world, Love & Saffron is a gem of a novel, a reminder that food and friendship are the antidote to most any heartache, and that human connection will always be worth creating.
Born in Seattle and raised throughout the Pacific Northwest, Kim Fay lived in Vietnam for four years and still travels to Southeast Asia frequently. A former bookseller, she is the author of Communion: A Culinary Journey Through Vietnam, winner of the World Gourmand Cookbook Awards' Best Asian Cuisine Book in the United States, and The Map of Lost Memories, an Edgar Award finalist for Best First Novel. She is also the creator/editor of a series of guidebooks on Southeast Asia. Fay now lives in Los Angeles.
Jasmin Darznik is the New York Times bestselling author of The Bohemians, The Good Daughter: A Memoir of My Mother's Hidden Life and Song of a Captive Bird. Her books have been published in seventeen countries. She was born in Tehran, Iran, and came to America when she was five years old. She holds an MFA in fiction from Bennington College, a JD from the University of California, and a PhD in English from Princeton University. Now a professor of English and creative writing at California College of the Arts, she lives in the San Francisco Bay Area with her family.
Kim Fay photo courtesy of the author; Jasmin Darznik photo courtesy of the author

$24.00

ISBN: 9780593419335
Availability: On Our Shelves Now
Published: G.P. Putnam's Sons - February 8th, 2022
---

$17.00

ISBN: 9780593129449
Availability: On Our Shelves Now
Published: Ballantine Books - April 5th, 2022
---