Tuesday, November 16, 2010 - 10:00am
Corte Madera store
Order a signed copy
Special for kids!
Kathryn Otoshi presents Zero ($17.95). As budding young readers learn about numbers and counting, they are also introduced to accepting different body types, developing social skills and character, and learning what it means to find value in one's self and in others. Otoshi is the author of One and Simon and the Sock Monster.

Location:
Book Passage
51 Tamal Vista Blvd
us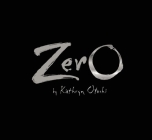 $17.95
ISBN: 9780972394635
Availability: Usually Ships in 1-5 Days
Published: Ko Kids Books - September 15th, 2010
Zero is a big round number. When she looks at herself, she just sees a hole right in her center. Every day she watches the other numbers line up to count: "1, 2, 3, 4, 5, 6, 7 . . . !" "Those numbers have value. That's why they count," she thinks. But how could a number worth nothing become something? Zero feels empty inside. She watches One having fun with the other numbers.
---