June Jo Lee
Sandor Katz and the Tiny Wild
& Chef Roy Choi and the Street Food Remix
An In-Person Book Signing • Book Passage (SF Ferry Building)
Sat., September 17th • 11:30am PT
*Please note that masks are recommended for Ferry Building events.
Visit the Ferry Plaza Farmers Market first for a cooking demo with June Jo Lee and Philip Lee at 10:30am.
Details here.
PICTURE BOOK BIOGRAPHY OF THE "FERMENTATION REVIVALIST," FROM THE AWARD-WINNING AUTHORS OF CHEF ROY CHOI AND THE STREET FOOD REMIX.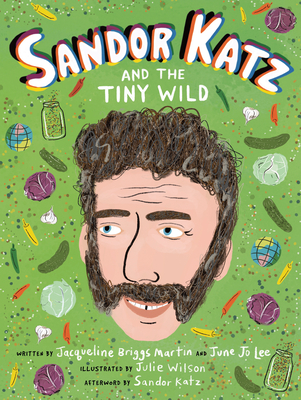 Sandor Katz's love of fermented food started with kosher dill pickles he ate as a New York City kid. As an adult, he left the busy city and moved to a queer community in the mountains of Tennessee. There, his friends grew their own food, cooked and ate together, and sometimes danced in drag when the work was done. One day, the cabbages were all, ALL ready to be harvested. What to do? Sandor tried to make sauerkraut. Delicious He kept experimenting, finding old recipes, combining old ideas to make something new. Then, he shared what he learned in bestselling books, in classes, and with a growing group of friends around the world.
Written by award-winning authors Jacqueline Briggs Martin and June Jo Lee, Sandor Katz and the Tiny Wild folds timely themes of ecology, community-building, and resilience into a lively biography that closes with a hands-on recipe: just chop, salt, pack, and wait for tiny, wild, invisible microbes to turn raw ingredients into zingy, zangy foods that we love. Sandor believes that making fermented foods connects all, ALL of us on planet Earth--people, plants, and The Tiny Wild. Won't you join Sandor's crew and share your own dash of dazzle with the world?
---
AWARD WINNING PICTURE BOOK BIOGRAPHY OF THE CHEF WHO KICKSTARTED THE FOOD TRUCK MOVEMENT.
Chef Roy Choi calls himself a "street cook."
He wants outsiders, low-riders,
kids, teens, shufflers and skateboarders,
to have food cooked with care, with love,
with sohn maash.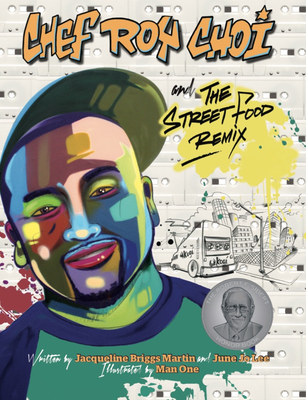 "Sohn maash" is the flavors in our fingertips. It is the love and cooking talent that Korean mothers and grandmothers mix into their handmade foods. For Chef Roy Choi, food means love. It also means culture, not only of Korea where he was born, but the many cultures that make up the streets of Los Angeles, where he was raised. So remixing food from the streets, just like good music--and serving it up from a truck--is true to L.A. food culture. People smiled and talked as they waited in line. Won't you join him as he makes good food smiles?
June Jo Lee is a food ethnographer, studying how America eats for companies such as Google and is a national speaker on food trends. She is also co-founder of publisher READERS to EATERS, promoting food literacy with stories about our diverse food cultures. Like Roy Choi, she was born in Seoul, South Korea, and moved to the United States. She now lives in San Francisco. Her newest book is Sandor Katz and the Tiny Wild, also co-written with Jacqueline Briggs Martin. foodethnographer.com.
Jacqueline Briggs Martin (not attending), author of the Caldecott Medal winner, Snowflake Bentley as well as Farmer Will Allen and the Growing Table, and Alice Waters and the Trip to Delicious continues her Food Heroes series with Chef Roy Choi on people who change what and how we eat. Together with food ethnographer June Jo Lee and internationally renowned graffiti artist Man One, they bring an exuberant celebration of street food and street art.
June Jo Lee photo courtesy of the author
Location:
Book Passage Ferry Building
1 Ferry Building

$19.95

ISBN: 9780998047713
Availability: On Our Shelves Now - Click Title for More Details
Published: Readers to Eaters - June 7th, 2022
---

$19.95

ISBN: 9780983661597
Availability: Usually Ships in 1-5 Days
Published: Readers to Eaters - April 4th, 2017
---