Tuesday, April 6, 2021 - 4:00pm

Tuesday, April 6th, 2021
Online • Live • 4:00pm PT/7:00pm ET
Presented with the Contemporary Jewish Museum
One of the most important stories of World War II, already optioned by Steven Spielberg for a major motion picture: a spectacular, searing history that brings to light the extraordinary accomplishments of brave Jewish women who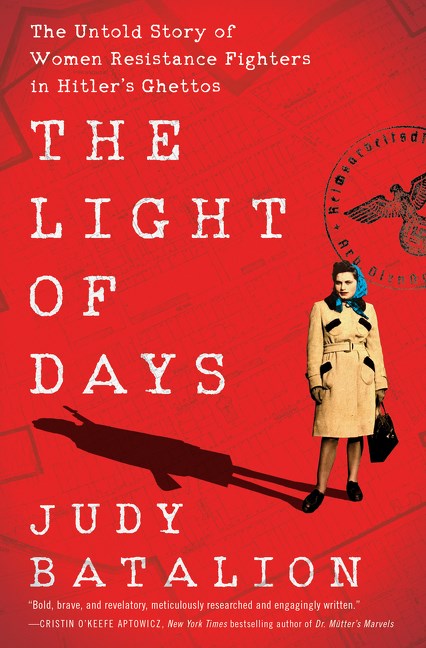 became resistance fighters—a group of unknown heroes whose exploits have never been chronicled in full, until now.
The Light of Days: The Untold Story of Women Resistance Fighters in Hitler's Ghettos tells the true story of the Jewish women and girls who served as resistance fighters during World War II. The "ghetto girls" paid off Gestapo guards, hid revolvers in loaves of bread and jars of marmalade, and helped build underground bunker systems. They flirted with Nazis, bought them off with wine, whiskey, and home cooking, and shot and killed them. They helped the sick and taught the children; they bombed German train lines and blew up the water supply at Vilnius.
Years later, author Judy Batalion discovered the lost accounts of these resistance fighters in a long out-of-print book from 1946—and went on to record their story in The Light of Days, which has now been optioned for a major motion picture. Join Batalion as she shares more about the stories of these young Jewish women, how their history came to light, and more in an afternoon of images, storytelling, and conversation. Batalion will be joined in conversation by Marcel Lamont (M.L.) Walker, lead artist and designer of CHUTZ-POW! SUPERHEROES OF THE HOLOCAUST. This program is presented in commemoration of Yom HaShoah (Holocaust Remembrance Day) and in partnership with Book Passage and The Holocaust Center of Pittsburgh.
Judy Batalion is the author of White Walls: A Memoir About Motherhood, Daughterhood and the Mess in Between. She has written for the New York Times, Vogue, the Washington Post, and many other publications. Prior to her writing career, she was an academic and is fluent in both Yiddish and Hebrew. Born and raised in Montreal, she now lives in New York with her husband and children.
Marcel Lamont (M.L.) Walker is an award-winning graphic-prose creator and expert in social applications for comic-book art. A Pittsburgh, Pennsylvania native, Walker graduated from the Art Institute of Pittsburgh and has taught classes and workshops in comic book creation for over twenty-five years. He is the lead artist, book designer, and project coordinator for the acclaimed comic-book series CHUTZ-POW! SUPERHEROES OF THE HOLOCAUST, published by The Holocaust Center of Pittsburgh. He is also the president of the board of directors for the ToonSeum, a Pittsburgh–based nonprofit that champions comic books as a force for social good. Awards Walker has won include the BMe Community Genius Fellowship and 2017 Best Local Cartoonist as voted by readers of the Pittsburgh City Paper.
Judy Batalion photo by Beowulf Sheehan; Marcel L. Walker photo by Sarah Huny Young

$28.99
ISBN: 9780062874214
Availability: Usually Ships in 1-5 Days
Published: William Morrow - April 6th, 2021
---