Join us at Book Passage for this special event featuring literary sisters Joan Baranow and Amy Crider!
"We think back through our mothers if we are women," Virginia Woolf declares in A Room of One's Own, and certainly Joan Baranow embraces a woman-centered poetics in A Slight Thing, Happiness. In this volume of poetry, Baranow explores the many phases of motherhood, beginning with her struggle with infertility treatments, toxemia of pregnancy, and the premature births of her sons. The poems that open the book narrate those early days of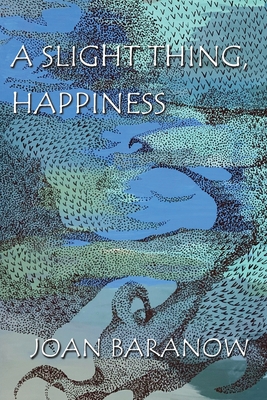 disappointment, hope, and gratitude with vivid images of nature as the poet negotiates her way through a harsh clinical environment.
In section II Baranow looks back to women who have gone before, searching for guidance on how best to be a mother while losing her own mother to cancer. The loss of one's mother, both literally and spiritually, is a motif that recurs throughout the book. The elder women of folktale, for instance, are presented as fierce females who have tragically lost control over their lives. In "Grandma" the speaker remembers how "Once, she had carried an axe. / Once, she had flayed the little doves / so plentiful here, the specks of their eyes / bright onyx gems...." Like the grandmother in "Little Red Riding Hood," she knows that age has taken her strength and "she's the ghost now, isn't she, / blasted, blown, her legs like twisted rags." In "Sergeant Marge," a war veteran no longer able to care for herself is tied to a hospital bed, straining against the system that insists on caring for her while taking away her agency. Even the poet's own mother, speaking from the grave, has nothing but consolation to offer her grieving daughter.
Although her female forebears find themselves weakened by age, their resistance to forces that restrain them is inspiring. The poet learns that casualness in the face of fear may be a model for motherhood. This third section of the book describes the world as seen by her children, a world "with or without wings," where death hovers on the margins of their awareness. Baranow mourns the ordinary deaths that occur as a natural part of life-a drowned rat, a dead fawn-yet she encourages her toddler to bravely "walk atop a stone wall, pigeon-toed." Here are poems that celebrate the heedless energy of childhood even while death remains ever-present in the poet's mind.
The last section of the book moves outward as the demands of motherhood shift into a larger social sphere and the poet reconnects with friendships, marriage, and her own childhood memories. Nature remains the vital core of Baranow's relationship to life and to her image-making. She remembers when her "soul had a chance to travel / where the land was useless- / just fields of abandoned apple trees" and how she once released a cloud of termites that were immediately snatched up by dragonflies, "swooping in / like chunky bombers." Nature is physically and morally instructive, from the intimate details of reproductive life to the stars that "kept their course." Despite her admission, "I know so little about / what I love," the poet and her teenage son find themselves momentarily confiding in each other, wrapped under the night sky in the womb-like warmth of a hotel hot tub.
In A Slight Thing, Happiness, readers gain a look into reproductive experiences that are rarely found in poems and are rewarded with the miracle of ordinary family life. As the title poem suggests, the sight of a red squirrel toppling into a bird feeder-slight as that may be-can be enough for happiness.
Joan Baranow is the author of In the Next Life, Living Apart, and two poetry chapbooks. Her collection, Reading Szymborska in a Time of Plague, won the 2021 Brick Road Poetry Book Contest. A fellow of the Virginia Center for the Creative Arts and member of the Community of Writers, she founded and teaches in the Low- Residency MFA program in Creative Writing at Dominican University of CA. With her husband David Watts she produced the PBS documentary Healing Words: Poetry & Medicine. Her feature-length documentary, The Time We Have, presents an intimate portrait of a teenager facing terminal illness.
---
---
Amy Crider's debut psychological thriller, Disorder, is an endlessly satisfying page turner that will forever change the way you look at storytelling and mental illness. Wendy is a vulnerable graduate student at an isolated state university in rural Upstate New York. Struggling with bipolar disorder, she has just come off disability to work on her MA. When her roommate Diana disappears, the stress launches a bout of increasingly paranoid mania. Wendy longs to take charge of her life, and in the end, she must take her place as a competent adult to face down Diana's killer.
Publishers Weekly praised Disorder for its "ingenious plot…psychological thriller plans will want to check this out." Foreword Reviews, giving it 5 stars, calls it "a perceptive character study."
Disorder was inspired by author Amy Crider's experience with being bipolar as a young woman in the 1990s: During a bout of particularly paranoid mania, I found myself thinking, "It's a good thing I'm not involved in a murder investigation right now, or I'd really be in trouble." I knew I had to write that story someday.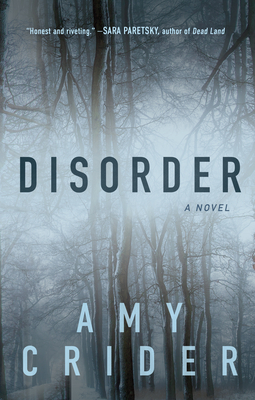 Amy Crider is an award-winning novelist and playwright based in Chicago. She studied theater and education at Goddard College, and began her playwriting career with the writing program at the famed comedy center Second City. In 2021 she won the Tennessee Williams One Act Play Contest. Her first novel Disorder was published in 2021 when she was 60, after it won the University of New Orleans Press Lab Prize. She produces a podcast of audio versions of her plays called Continuous Dream Theatre, based at www.continuousdream.com. Her website is www.amycrider.com.
Joan Baranow photo courtesy of David Watts; Amy Crider photo courtesy of author

$18.00

ISBN: 9781955194082
Availability: Coming Soon - Available for Pre-Order Now
Published: Saint Julian Press, Inc. - October 14th, 2022
---

$18.95

ISBN: 9781608012206
Availability: Usually Ships in 1-5 Days
Published: University of New Orleans Press - November 9th, 2021
---