Saturday, August 25, 2018 - 2:00pm
Special Children's Event
Houseboats, ferries, fishing boats, sailboats . . . see all the boats parade on the bay
Boats on the Bay is a large-format picture book about a bunch of boats found on a busy bay, buoyed by simple, spare, and lyrical text. Inspired by the San Francisco Bay but with universal appeal, the book features a spectacular double-spread gatefold finale showing a boat parade and fireworks glowing against a city backdrop.
Jeanne Walker Harvey lives in Sausalito, California, where she watches all of the boats on the bay from her house on the hill. She is the award-winning author of several picture books, including Maya Lin: Artist-Architect of Light and Lines; My Hands Sing the Blues, Romare Bearden's Childhood Journey;Honey Girl the Hawaiian Monk Seal; and Astro the Stellar Sea Lion. In addition to being a writer, Jeanne is a docent at San Francisco Museum of Modern Art.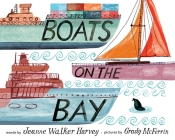 $17.95
ISBN: 9781944903336
Availability: Usually Ships in 1-5 Days
Published: Cameron - September 18th, 2018
---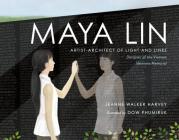 $17.99
ISBN: 9781250112491
Availability: Usually Ships in 1-5 Days
Published: Henry Holt and Co. (BYR) - May 2nd, 2017
The bold story of Maya Lin, the visionary artist-architect who designed the Vietnam Veterans Memorial.

You may be familiar with the iconic Vietnam Veterans Memorial. But do you know about the artist-architect who created this landmark?
---

$9.95
ISBN: 9781628559224
Availability: Usually Ships in 1-5 Days
Published: Arbordale Publishing - February 10th, 2017
Hawaiian locals and visitors always enjoy spotting endangered Hawaiian monk seals, but Honey Girl is an extra special case. She has raised seven pups, and scientists call her -Super Mom.- After Honey Girl is injured by a fishhook, she gets very sick. Scientists and veterinarians work to save Honey Girl until she can be released back to her beach.
---