Wednesday, May 19, 2021 - 6:00pm

Wednesday, May 19, 2021 • 6:00pm PT • Online • Live
In conversation with Lavinia Spalding
Introduction by Larry Habegger, Executive Editor of Travelers' Tales
Rife with misadventures, brushes with death, and moments of existential insight, The End of the World Notwithstanding is a hilarious yet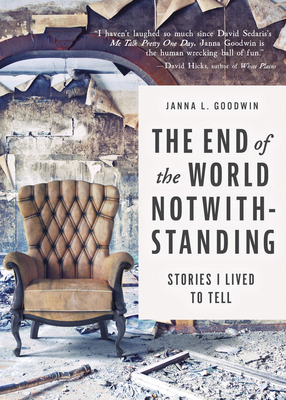 reflective look at the emotional experiences that make everyday life exciting—and the physical ones that remind us we're lucky to be alive.
I'm traveling alone, renting a cabin at a normally tranquil spot—that's called foreshadowing—on the banks of the Big Laramie River at the edge of the Medicine Bow National Forest.
So begins Janna L. Goodwin's lighthearted collection of nail-biting stories, all true, and all of which fill the listener with wonder ... as in, "I wonder how any of us survives?"
Encounters with wildfire, insects, house pets, weather, gravity, predators, bullies, and the most potent force of all—fear itself—unfold in remote landscapes of the American West (and Midwest); on the neon-splashed sidewalks of Hollywood; at a Catskills summer camp for actors; in the lavish apartment of a famous senator; in a Hawaiian beach condo; on the side of a mountain above the Mediterranean Sea; and far beneath the streets of Paris. Goodwin looks for and ultimately finds meaning (if not security) in a clear-eyed acknowledgment of our shared, human condition—and in laughter.
Janna L. Goodwin teaches in the Communication department and the Mile High MFA program at Regis University in Denver, Colorado. She grew up in Wyoming, performed improv comedy for a few years with Moving Violations and other groups in the Los Angeles area, and—after living for a year in France—studied theatre at the National Shakespeare Conservatory in New York. She earned her BA in Film and Music from Hampshire College and her doctoral degree in Communication from the University of Massachusetts, Amherst. Her plays have been produced by independent theatre companies on the East Coast and in Colorado. She has created and directed ensemble comedies for many years, including The House Not Touched by Death (Pilgrim Theatre Collective; the Ko Festival of Performance) and Just Pretend Everything Is Perfectly Normal (Playwright Theatre). Her most recent solo show, You Are Reminded That Your Safety is Your Own Responsibility, premiered at the United Solo Theatre Festival in New York, toured a bit, and provided the original material for this, her first book.
Lavinia Spalding is the author of Writing Away and co-author of With a Measure of Grace and This Immeasurable Place. Her writing appears in such publications as AFAR, Tin House, Longreads, Yoga Journal, Sunset, Ms., the San Francisco Chronicle, and The Guardian, and has been widely anthologized. Her work has won gold Lowell Thomas and Solas awards and has been recognized by The Best American Travel Writing and written about in the New Yorker and The New York Times. She lives with her family in New Orleans and on Cape Cod.
Available in hardcover and paperback

$16.99
ISBN: 9781609522018
Availability: Usually Ships in 1-5 Days
Published: Travelers' Tales - April 13th, 2021
---

$27.95
ISBN: 9781609522032
Availability: Usually Ships in 1-5 Days
Published: Travelers' Tales - April 13th, 2021
---

$19.95
ISBN: 9781932361674
Availability: Usually Ships in 1-5 Days
Published: Travelers' Tales - August 1st, 2009
---