Janet Fletcher
in conversation with Cakebread Cellars culinary director Brian Streeter
Gather
Corte Madera Store
Sun., November 12, 2023 • 4:00pm PT
Welcome acclaimed cookbook author Janet Fletcher joined by Cakebread Cellars culinary director Brian Streeter, as they present Gather, a Wine Country cookbook that celebrates sustainable, garden-to-table dining. Enjoy a glass of Cakebread Cellars Sauvignon Blanc as Janet shares images of these inspiring edible gardens and the stories behind them.

Some of the tastiest California cooking today comes from wineries with edible gardens, and now you can take a visual tour of these magical culinary green spaces, peek inside the winery kitchens that reap the harvest, and bring sun-ripened flavors into your own home kitchen. Gather: Casual Cooking from Wine Country Gardens showcases some of California's most ambitious wineries' culinary gardens and the fresh, wine-friendly dishes they inspire, all vividly captured by three-time James Beard Award–winner Janet Fletcher. Bring the garden to the plate California-style with Heirloom Tomato and Peach Salad with Burrata or Golden Beet Gazpacho. Enjoy a glass of Sauvignon Blanc alongside Crostini with Garden Carrots, Goat Cheese, and Dukkah; or savor a platter of crisp spring vegetables with Caramelized Spring Onion Dip. To show off a fine California red wine, try Spring Lamb Chops Scottadito with Charred Tomato and Black Olive Tapenade or Slow-Roasted Beef Short Ribs with Broccoli di Cicco and Farro. The book's garden-inspired desserts include luscious finales such as Blood Orange Crème Brûlée, Cheesecake with Blueberry Gelée, and Lemon Verbena Apricots with Olive Oil–Sea Salt Ice Cream. In more than 60 delicious recipes, Gather delivers the finest of California's wine country to your door, demonstrating the creative ways that wineries use their garden bounty to please their guests and complement their wines.
Janet Fletcher is the author of over 30 books on food and beverage, including Wine Country Table, Cheese & Wine, Fresh from the Farmers Market, and Sur La Table's Eating Local: Recipes Inspired by America's Farmers. Fletcher publishes the weekly Planet Cheese blog and is the cheese columnist for Specialty Food and SOMM Journal magazines. Her journalistic work has earned her three James Beard Awards and the IACP Bert Greene Award, and her food writing has appeared in numerous national publications, including the New York Times, Saveur, Fine Cooking, and Food & Wine. She lives and works in the Napa Valley.
Brian Streeter has been highlighting the world-class wines of Cakebread Cellars with seasonal, product-driven menus since 1989. He leads hands-on cooking classes at the winery and manages a team that develops wine-pairing recipes and prepares meals for events. Brian also spearheads the annual American Harvest Workshop at our winery's Rutherford location, a four-day "boot camp" for chefs, sommeliers, press and consumers. He is the co-author of the Cakebread Cellars Napa Valley Cookbook and The Cakebread Cellars American Harvest Cookbook (Ten Speed Press).
A graduate of the New England Culinary Institute in Montpelier, VT, Brian worked in Greenwich, CT, before moving to Napa Valley. Prior to joining Cakebread Cellars, he worked at étoile, the restaurant at Domaine Chandon, Napa.
Brian enjoys sharing his knowledge and passion for cooking. Every year, he works with a fourth-grade class in the town of Napa, introducing young students to the pleasure of cooking and helping them develop an understanding of food sources. Brian is a member of both the Chef's Collaborative and Slow Food.
Janet Fletcher & Brian Streeter photos courtesy of the authors.
Location:
Book Passage Corte Madera
51 Tama Vista Blvd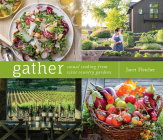 $40.00

ISBN: 9781949480269
Availability: On Our Shelves Now - Click Title for More Details
Published: Cameron Books - May 9th, 2023
---