Saturday, November 12, 2016 - 1:00pm
Unconditional: Older Dogs, Deeper Love is a captivating collection of photographs and stories that celebrates humans' special bond with, and love for, their older dogs. Since 2012, photographer Jane Sobel Klonsky has traveled the United States with one mission: to capture images and stories that focus on the powerful relationship between dogs in the twilight of their lives and the people who love them. The dogs photographed for the book include senior rescues with their adopters, service dogs with those they assist and guide, working dogs with their handlers, and lifelong cherished family pets with the people who dote on them. A book for any dog lover who appreciates the connection, unconditional love, and bond that can only be provided by a canine companion.
Jane Sobel Klonsky launched her photography career in 1976 as the first photographer to scale the cables to the top of the Verrazano Bridge to get a shot of the start of the New York City Marathon. She was the Marathon's official photographer for the next 10 years, and for nearly thirty years was a major player in the world of commercial and sports photography. Jane's work has taken her around the world: to Kenya to shoot photos of a family of Masaai Warriors; to record an international running competition in Tokyo; and to chronicle the untouched beauty of far-reaching places like Papua New Guinea and Myanmar (Burma). Her award-winning photographs have been published widely, and have been the subject of several previous books, including one based on a 50,000 mile cross-country photographic tour of rural America taken with her photographer husband, Arthur, and two Great Danes. In 2012, Jane started the Project Unconditional photo series as a labor of love.Mother to up-and-coming filmmaker Kacey, she lives with her husband, their two therapy dogs, Charlie and Sam, and a cat, Humphrey, in rural Vermont.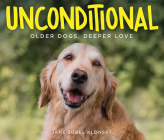 $19.95
ISBN: 9781426217111
Availability: Usually Ships in 1-5 Days
Published: National Geographic - October 25th, 2016
Experience the deeper, sweeter love of senior dogs with this captivating National Geographic collection of photographs and anecdotes.
---