Thursday, November 14, 2013 - 6:00pm
San Francisco's Playland at the Beach: The Golden Years ($22.95) presents Playland as it is best remembered today — a playground where families experienced endless days of fun in San Francisco's glorious postwar boom. Illustrated by over 200 rare black-and-white and color photographs — including many images never before published — San Francisco's Playland at the Beach: The Golden Years takes the reader back in time to experience the rides, attractions, restaurants and behind-the-scenes operations of the great amusement park at the height of its glory.
California historian James R. Smith is the author of San Francisco's Lost Landmarks, The California Snatch Racket, and San Francisco's Playland at the Beach: The Early Years, as well as numerous historical articles. A well-respected authority in California history, he has spent years chronicling the stories of San Francisco and the California Gold Country. Smith is a frequent lecturer and discussion leader at universities, historical societies, libraries and bookstores.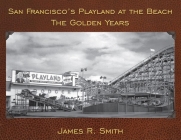 $25.95
ISBN: 9781610351935
Availability: Special Order
Published: Craven Street Books - November 1st, 2013
Comprehensively documented and illustrated, this is the definitive and authoritative look at one of America's landmark amusement parks, Playland at the Beach, a glamorous park that is still revered by San Franciscans more than 40 years after it closed.
---