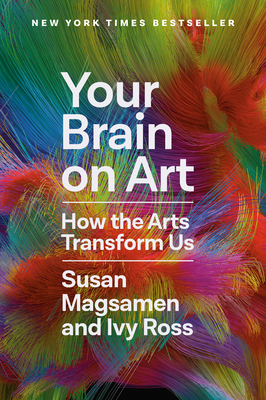 A mind-altering journey through the science of neuroaesthetics that offers proof of how our brains and bodies are transformed when we participate in the arts and aesthetic experiences, and how this knowledge can improve our physical and mental health, help us flourish, and build stronger communities.
Many of us think of the arts as entertainment or an escape. A luxury of some kind. This book will show you that the arts are so much more.
We now have scientific proof that the arts are essential to our well-being, even our survival. For example, working on an art project for forty-five minutes reduces stress by 25 percent. Mask-making and painting rewire the brains of trauma victims. Dance and movement effectively relieve symptoms of Parkinson's disease. Multi-sensory virtual reality provides cutting-edge pain therapy. Architecture and design in schools bolsters learning using biophilic materials and neuroaesthetic principles.
In Your Brain on Art: How the Arts Transform Us, co-authors Susan Magsamen, founder and director of the International Arts + Mind Lab at Johns Hopkins University School of Medicine, and Ivy Ross, head of hardware design at Google, bring to life the neurobiology of the arts and aesthetics and how they make a positive impact on our day-to-day life.
From artists David Byrne and Renée Fleming to evolutionary biologist E.O. Wilson, Your Brain on Art is a journey of discovery and an authoritative guide to the new science of neuroaesthetics that weaves a vibrant tapestry of breakthrough research, insights from multidisciplinary pioneers, and compelling stories from people who are using the arts to enhance physical and mental well-being.
Ivy Ross is the vice president for hardware at Google, where she leads a team that has created over fifty products, winning over 225 design awards. A National Endowment for Arts grant recipient, Ivy has designed innovative metalwork that is in the permanent collection of more than ten international museums. Besides her background in the arts, Ivy has pursued studies in a wide range of fields such as energy medicine, sound therapy, psychology, and play. Ninth on Fast Company's list of the 100 most creative people in business in 2019, Ivy believes the intersection of arts and sciences is where the most engaging and creative ideas are found.
Susan Magsamen is the founder and director of the International Arts + Mind Lab Center for Applied Neuroaesthetics at the Pedersen Brain Science Institute of the Johns Hopkins University School of Medicine, where she is a faculty member in the department of neurology. She is also the co-director of the NeuroArts Blueprint. Susan works with both the public and private sectors using arts and culture evidence-based approaches to improve our lives in areas including physical and mental health, child development, workforce innovation, family engagement, rehabilitation, and social equity.
Tiffany Shlain is an artist, Emmy-nominated filmmaker, founder of the Webby Awards and author of the national bestselling book 24/6: Giving up Screens One Day a Week to Get More Time, Creativity, and Connection winner of the Marshall McLuhan Outstanding Book Award. Working across film, art, and performance, Shlain's work explores the intersection of feminism, creativity, neuroscience, and philosophy. She has received over 80 awards and distinctions including being selected for the Albert Einstein Foundation's Genius: 100 Visions of the Future and multiple film premieres at Sundance. The Museum of Modern Art in New York premiered her live one woman "spoken cinema" performance Dear Human. Her recent exhibition Human Nature which was presented by the National Women's History Museum and Women Connect4Good debuted at the San Francisco Ferry Building's SHACK15 and will be traveling to exciting places in 2023. tiffanyshlain.com
Ivy Ross & Susan Magsamen photos courtesy of Vespa Pictures; Tiffany Shlain photo courtesy of the author
Location:
Book Passage Corte Madera
51 Tamal Vista Blvd

$30.00

ISBN: 9780593449233
Availability: On Our Shelves Now - Click Title for More Details
Published: Random House - March 21st, 2023
---

$17.99

ISBN: 9781982116873
Availability: On Our Shelves Now - Click Title for More Details
Published: Gallery Books - October 20th, 2020
---