Special Children's Event!
* Pre-order the book from the Book Passage website and receive a 10% discount! Books will be signed and can be picked up at or after the event. *
..........................................................................................................................
If I Had a Horse is an inspiring, self-reflective picture book with simple text and gorgeous, impressionistic artwork from acclaimed author-illustrator Gianna Marino.
If I had a horse, he might be shy, like me.
But if I stayed quiet, he'd learn to be my friend.
I would have to tame him. I would have to be strong, like him. And he would have to be gentle, like me.
And together, we could do anything.
Marino's vibrant, silhouetted art brings to life this picture book about understanding, stepping beyond boundaries, and bravery.
Gianna Marino was born in San Francisco and spent her early years galloping horses through Golden Gate Park. Her explorations expanded after graduating from high school and in order to afford her many journeys, Gianna had several jobs at once: apprenticing a muralist, a jewelry designer, a product designer and driving horse carriages through the park. Gianna explored many corners of the world, from Africa and Asia, to the South Pacific and Europe, to crewing on sailboats in the high seas. At work and school, she became known as "Boomerang". Gianna finally landed a full-time freelance gig designing toys for children, but after several years in a corporate box with no windows, she left for good and began writing and illustrating books for children.Her books include Meet Me at the Moon, Following Papa's Song, Too Tall Houses, and Night Animals. Though she still wanders the world, Gianna now lives in Northern California and works full-time writing and illustrating.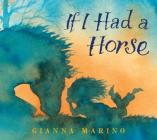 $18.99

ISBN: 9781626729087
Availability: Usually Ships in 1-5 Days
Published: Roaring Brook Press - January 30th, 2018
---