Gavin Edwards
Bad Motherf---er
in conversation with Douglas Wolk
Wed., Jan. 19 • 5:30pm PT • Live • Online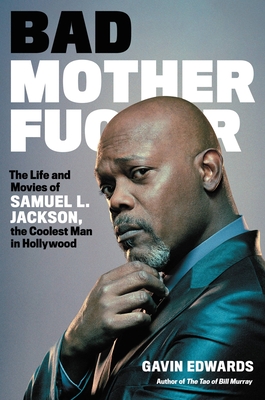 Samuel L. Jackson's embodiment of cool isn't just inspirational—it's important. Bad Motherf---er lays out how his attitude intersects with his identity as a Black man, why being cool matters in the modern world, and how Jackson can guide us through the current cultural moment in which everyone is losing their cool. Edwards details Jackson's fascinating personal history, from stuttering bookworm to gunrunning revolutionary to freebasing addict to A-list movie star.
Drawing on original reporting and interviews, the book explores not only the major events of Jackson's life but also his obsessions: golf, kung fu movies, profanity. Bad Motherf---er
features a delectable filmography of Jackson's movies—140 and counting!—and also includes new movie posters for many of Jackson's greatest roles, reimagined by dozens of gifted artists and designers. The book provides a must-read road map through the vast territory of his on-screen career and more: a vivid portrait of Samuel L. Jackson's essential self, as well as practical instructions, by example, for how to live and work and be.
Gavin Edwards is the New York Times-bestselling author of thirteen books, including The Tao of Bill Murray, Kindness and Wonder: Why Mister Rogers Matters Now More Than Ever, and most recently, Bad Motherf---er: The Life and Movies of Samuel L. Jackson, the Coolest Man in Hollywood. Gavin has ridden on Taylor Swift's private plane, taken a city bus to the Grammys, and participated in the world's largest tomato fight. Gavin Edwards has written magazine cover stories on Jared Leto, Johnny Depp, and the Red Hot Chili Peppers, and co-written books with Travis Barker (drummer for Blink-182) and the original MTV VJs. He's a veteran of publications such as Rolling Stone and the New York Times.
Douglas Wolk is the author of the Eisner Award-winning Reading Comics and the host of the podcast "The Voice of Latveria." A National Arts Journalism Program Fellow, Wolk has written about comic books, graphic novels, pop music and technology for the New York Times, Rolling Stone, the Washington Post, the Los Angeles Times, The Believer, Slate, and Pitchfork

Douglas Wolk photo courtesy of the author

$29.00

ISBN: 9780306924323
Availability: Backordered
Published: Hachette Books - October 26th, 2021
---