Special Children's Event!
Join us for a Saturday morning story time with the illustrator of Rube Goldberg's Simple Normal Humdrum School Day. A must for young inventors, tinkerers and makers.
Inspired by her grandfather, cartoonist Rube Goldberg, Jennifer George mixes humor and education in Rube Goldberg's Simple Normal Humdrum School Day. Readers follow Rube as he sets out on a typical school day, overcomplicating each and every step from the time he wakes up in the morning until the time he goes to bed at night. If Rube's inventions are any indication, "normal" means something very different in the Goldberg household. For Rube, up is down, in is out, and the simplest path to accomplishing an everyday task—like brushing his teeth or getting dressed—is a humorously complicated one.
Ed Steckley is an award-winning illustrator whose clients include MAD magazine and innumerable advertising agencies worldwide. He lives in Queens, New York.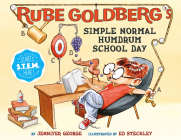 $17.95

ISBN: 9781419725586
Availability: Usually Ships in 1-5 Days
Published: Abrams Books for Young Readers - August 29th, 2017
---