Heaven on the Half Shell offers a thoroughly researched and richly illustrated history of the Pacific Northwest's beloved bivalve, the oyster. Starting with the earliest evidence of sea gardens and clam beds from 11,500 years ago, this book covers the history of oyster cultivation through contemporary aquaculture in coastal Washington, Oregon, British Columbia, northern California, and southeastern Alaska.
Generations of oyster farmers, Native and non-Native, have weathered many challenges to continue the harvest. Their vivid individual accounts are braided together with significant history, such as the major contributions of Japanese immigrants prior to World War II and the 1994 Rafeedie decision that affirmed shellfish harvesting rights held by Northwest tribes. The book also sheds light on the innovations that made oysters an enduringly popular food, from the creation of so-called sexless oysters that could be consumed year-round to breakthroughs in contemporary oyster cuisine.
Now fully updated and expanded--and chock-full of "oysterabilia"--this classic text shares new insights on emerging challenges to the oyster farmer's life as well as increased coverage of the roles of women and contemporary tribes in building this cultural tradition, past and present. Newcomers and aficionados alike will also be delighted by the carefully selected recipes, both historic and contemporary, from the region's top chefs. As the old saying goes, when the tide is out, the table is set.
David George Gordon is the award-winning author of 22 books, including The Eat-A-Bug Cookbook. He previously served as science writer for Washington Sea Grant, part of the National Oceanic and Atmospheric Administration's National Sea Grant College Program that supports responsible use and conservation of coastal ecosystems.
Samantha Larson is science writer at Washington Sea Grant. Her writing and reporting has appeared in dozens of publications including Outside, National Geographic, and High Country News.
MaryAnn Barron Wagner is the lead for communications at Washington Sea Grant.
.
Author photo courtesy of the authors.
Location:
Book Passage Ferry Building
1 Ferry Building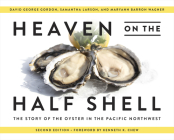 $29.95

ISBN: 9780295750781
Availability: On Our Shelves Now - Click Title for More Details
Published: University of Washington Press - April 11th, 2023
---