Dave Pell
Please Scream Inside Your Heart
in conversation with Phil Bronstein & Peter Coyote
Fri., Nov. 12, 2021 • 5:00pm PT • Live • Online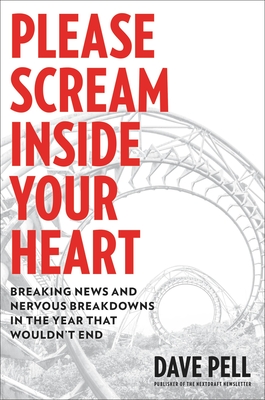 From the publisher of the NextDraft newsletter comes a cathartic and humorous ride through the unnerving, maddening hellscape of the 2020 press cycle, reestablishing the line between "real" news and real life.
Please lower your shoulder restraint and keep your hands and feet in. You're about to board a roller coaster ride through a year that was at once laughable and lethal.
If you've got an anti-anxiety prescription, now would probably be a good time to call in a refill.
Please Scream Inside Your Heart is a time capsule; a real-time ride through the maddening hell that was the 2020 news cycle—when historic turmoil and media mania stretched American sanity, democracy, and toilet paper. Who better to examine this unhinged period in all of its twists and turns than news addict Dave Pell, aka the internet's Managing Editor? Fueled by the wisdom and advice of his two Holocaust-surviving parents, for whom parts of this story were all too familiar, Pell puts the key stories of 2020 into context with pith and punch; highlighting turning points that widened America's divisions, deepened our obsession with a media-driven civil war, and nearly knocked the country off its tracks.
Pell also examines the role of technology in society—and how we somehow built the exact opposite of what we thought we were building. Why did the lies spread faster than the truth? How did our tech addiction contribute to the nightmare? Why do you feel a vibration in your pocket right now?
In 2020, the news was everywhere, and everything was political—even the air we breathed. So brace yourself as you're hurtled through the twists and turns of the corkscrewiest year in American history; one that included two impeachment trials, a global pandemic, Black Lives Matter, the biggest election of a lifetime, a slide towards autocracy, and a warning from the makers of Lysol not to drink their products.
Dave Pell has been writing about news, technology, and media since 1999. He writes NextDraft, a newsletter offering a quick and entertaining look at the day's most fascinating news. He's been news obsessed since he was child and he is known to his readers as the Internet's Managing Editor. He has also been investing in and advising startups since the earliest days of the internet, and has written extensively on the role of technology in our lives. He is a graduate of UC Berkeley and the Harvard Graduate School of Education. He sits on the board of 826 Valencia and is a longtime advisor to the Center for Investigative Reporting.
Phil Bronstein was a Pulitzer-finalist for his war reporting before becoming the Executive Editor of the San Francisco Examiner and later holding the same position at The San Francisco Chronicle. Most recently, he was the Executive Chair at the Center for Investigative Reporting. He once famously got into cage with a Komodo dragon but, to his credit, he never did it again.
Peter Coyote is an award-winning actor, author, director, screenwriter, and narrator who has worked with some of the world's most distinguished filmmakers. Recognized for his narration work, he narrated the PBS series The Pacific Century, winning an Emmy award, as well as eight Ken Burns documentaries, including The Roosevelts, for which he won a second Emmy. In 2011 he was ordained as a Zen Buddhist priest and in 2015 received "transmission" from his teacher, making him an independent Zen teacher. The author of several books, he lives in northern California.
Dave Pell photo by Adam Moore; Phil Bronstein photo courtesy of the author

$29.00

ISBN: 9780306847394
Availability: On Our Shelves Now
Published: Hachette Go - November 9th, 2021
---