Sunday, March 14th, 2021
Online • Live • 4:00pm PT/7:00pm ET
In conversation with Pati Jinich

Conversations with Authors is our free online event series! Join us throughout the week for new chats beween different authors.
Julia Turshen's Simply Julia: 110 Recipes for Healthy Comfort Food is her first collection of recipes featuring a healthier take on the simple, satisfying comfort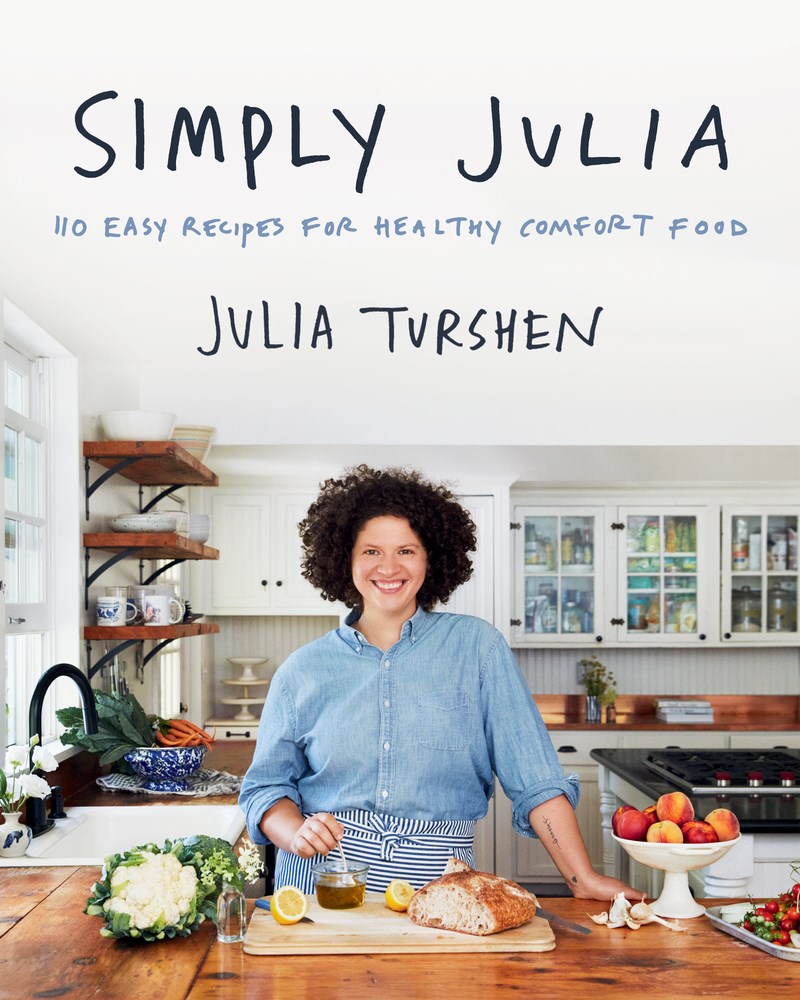 food for which she's known.
Julia has always been cooking. As a kid, she skipped the Easy-Bake Oven and went straight to the real thing. Throughout her life, cooking has remained a constant, and as fans of her popular books know, Julia's approach to food is about so much more than putting dinner on the table—it is about love, community, connection, and nourishment of the body and soul.
In Simply Julia, readers will find 110 foolproof recipes for more nutritious takes on the simple, comforting meals Julia cooks most often. With practical chapters such as weeknight go-tos, make-ahead mains, vegan one-pot meals, chicken recipes, easy baked goods, and more, Simply Julia provides endlessly satisfying options comprised of accessible and affordable ingredients. Think dishes like Stewed Chicken with Sour Cream + Chive Dumplings, Hasselback Carrots with Smoked Paprika, and Lemon Ricotta Cupcakes—the kind of flavorful yet unfussy food everyone wants to make at home.
In addition to her tried-and-true recipes, readers will find Julia's signature elements—her "Seven Lists" (Seven Things I Learned From Being a Private Chef that Make Home Cooking Easier; Seven Ways to Use Leftover Buttermilk; Seven Ways to Use Leftover Egg Whites or Egg Yolks), menu suggestions, and helpful adaptations for dietary needs, along with personal essays and photos and gorgeous food photography.
Julia is the bestselling cookbook author of Small Victories, named a Best Cookbook by the New York Times and NPR; Feed the Resistance, Eater's Book of the Year, 2017; and Now & Again, named the Best Cookbook of 2018 by Amazon. She hosts the IACP-nominated podcast "Keep Calm and Cook On" and has written for The New York Times, The Washington Post, The Wall Street Journal, Vogue, Bon Appétit, Food & Wine, and Saveur. She is the founder of Equity At The Table, an inclusive digital directory of women and non-binary individuals in food. Julia lives in the Hudson Valley with her wife and pets.
Pati Jinich (pronounced HEEN-ich) is the host of Pati's Mexican Table, now in its ninth season. Named one of the "100 Greatest Cooks of All-Time" by Epicurious and Bon Appétit, she has won a Gracie Award for her television work and is a three-time Emmy and IACP Award nominee. She is the resident chef of the Mexican Cultural Institute and has appeared on NPR's Splendid Table and All Things Considered, NBC's Today, CBS's The Talk, ABC's Good Morning America, and Food Network. Born and raised in Mexico City, she lives in Chevy Chase, Maryland, with her husband and three boys.
Below, please find the link to purchase their books.