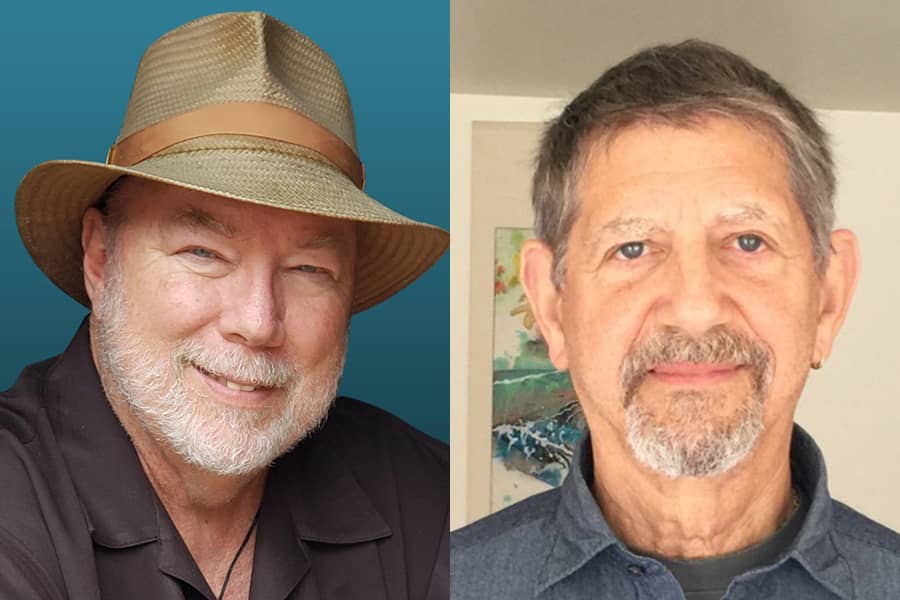 Saturday, November 7th, 2020
Online • Live • 4:00pm PT/7:00pm ET

Conversations with Authors is our free online event series! Join us throughout the week for new chats between different authors.
A note from Anthony:
Thanks so much to everyone who joined Peter Coyote and me in our discussion today. And a particular thanks to those who submitted so many interesting questions. Writers write to be read, and knowing you are out there showing interest in my novel, Driftwood: Stories from the Margarita Road, sustains debut authors like me. Many, many thanks to Elaine and all the staff at Book Passage who have nurtured my book since its very beginning. And a special thank you to Peter Coyote for his thoughtful and warm interview.

Now more than ever, independent bookstores like Book Passage need our support. Remember, bookstores are not just a place to buy a book; they are a community service and a community center. Show your support by shopping there.

And, while you're browsing at Book Passage, here are some of my personal favorite books:

Fiction:

Nonfiction:

Thanks again,
—Anthony Lee Head

Anthony Lee Head's debut collection, Driftwood: Stories from the Margarita Road, tells the story of modern-day runaways escaping the rat race and heading to a tropical paradise in search of a fresh start—a timely antidote for anyone who has grown weary of quarantines and sheltering in place.
Anthony knows firsthand the challenges of the expat lifestyle. In a fit of middle-aged madness, he gave up an established career as a trial lawyer in San Francisco to travel 3500 miles to tropical Mexico, where for a decade he and his wife ran a small hotel and a margarita bar near the Caribbean Sea. That adventure became the inspiration for this book. Anthony now lives in San Rafael, California with his wife and an embarrassingly large number of Mexican rescue dogs and cats. He is currently working on both a memoir and a new novel.
Peter Coyote is the author of the 1960's counter-culture memoir Sleeping Where I Fall, which received universally excellent reviews and has been in continuous print since 1999. His second book about mentors and the search for wisdom, The Rainman's Third Cure: An Irregular Education, was nominated as one of the top five non-fiction books published in California in 2015. His third book, Unmasking Your True Self (the Lone Ranger and Tonto Meet the Buddha) combines 50 years of Buddhist practice with acting and uses masks and improv exercises to foster liberation experiences and teach people "how to get out of their own way." It is forthcoming from Inner Traditions Press, as his first book of poems, The Tongue of a Crow.
Peter has performed as an actor in over 160 films for theaters and TV. He is a double Emmy-Award winning narrator of over 150 documentary films. An ordained Zen Buddhist priest and transmitted teacher, Peter is currently giving live weekly dharma talks on Facebook, preparing for a fourth book called Vernacular Buddhism.
Below, please find links to purchase their books.