Thursday, March 19, 2020 - 7:00pm
Please note: This event has been postponed due to concerns for the health and well-being of our community. For updates on this event and for additional event information, please subscribe to our e-newsletter.
Please join us for a special event featuring three middle grade authors: Chris Baron, author of All of Me; Jennifer Camiccia, author of The Memory Keeper; and Mae Respicio, author of Any Day with You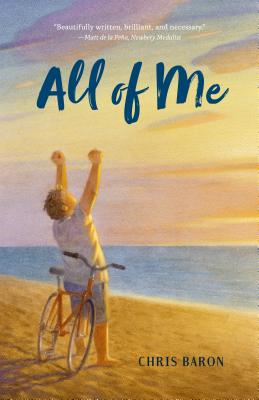 Ari has body-image issues. After a move across the country, his parents work at selling and promoting his mother's paintings and sculptures. Ari's bohemian mother needs space to create, and his father is gone for long stretches of time on "sales" trips. Meanwhile, Ari makes new friends: Pick, the gamer; the artsy Jorge, and the troubled Lisa. He is also relentlessly bullied because he's overweight, but he can't tell his parents—they're simply not around enough to listen. After an upsetting incident, Ari's mom suggests he go on a diet, and she gives him a book to help. But the book—and the diet—can't fix everything. As Ari faces the demise of his parents' marriage, he also feels himself changing, both emotionally and physically. All of Me is a much-needed story about accepting the imperfect in oneself and in life.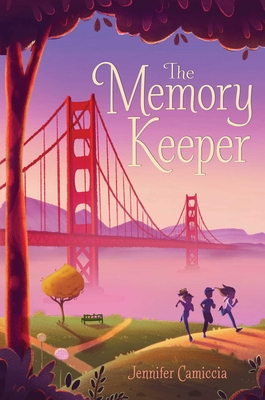 All Lulu Carter wants is to be seen. But her parents are lost in their own worlds, and Lulu has learned the hard way that having something as rare as HSAM—the ability to remember almost every single moment in her life—won't make you popular in school. At least Lulu has Gram, who knows the truth about Lulu's memory and loves her all the more for it. But Gram has started becoming absentminded, and the more lost she gets, the more she depends on Lulu…until Lulu realizes her memory holds the very key to fixing Gram's forgetfulness. Once Lulu learns that trauma can cause amnesia, all she needs to do to cure Gram is hunt down that painful moment in Gram's life. With her friends Olivia and Max, Lulu digs into Gram's mysterious past. But they soon realize some secrets should stay buried, and Lulu wonders if she ever knew Gram at all. It's up to Lulu to uncover the truth before the only person who truly sees her slips away. The Memory Keeper is a heartfelt middle grade debut about long-buried secrets, the power of memory, and the bond between a girl and her gram.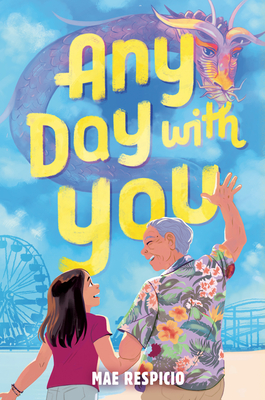 Any Day with You follows Kaia and her family, living near the beach in California where the fun of moviemaking is all around them. Kaia loves playing with makeup and creating special effects, turning her friends into merfolk and other magical creatures. This summer, Kaia and her friends are part of a creative arts camp, where they're working on a short movie to enter in a contest. The movie is inspired by the Filipino folktales that her beloved Tatang, her great-grandfather, tells. Tatang lives with her family and is like the sparkle of her special-effects makeup. When Tatang decides that it is time to return to his homeland in the Philippines, Kaia will do anything to convince him not to go.
Chris Baron is a professor of English at San Diego City College. He's also the author of the (adult) poetry collection, Lantern Tree, which was published as part of a poetry anthology, Under the Broom Tree, winner of the San Diego Book Award. He lives in San Diego, California, with his wife and their three children. All of Me is his first novel. Read more at chris-baron.com and on Twitter @baronchrisbaron.
Jennifer Camiccia has lived in the wilds of Los Angeles, where she wrote her first book at the tender age of five; Iran, where she developed a fear of camels and a fondness for pistachios; Hawaii, with its balmy breezes and memories of learning to swim; and the San Francisco Bay Area, where she now lives with her children and husband. Visit her online at JenCamiccia.com and on Twitter @JenCamiccia.
Mae Respicio's debut novel is The House That Lou Built, which received the Asian/Pacific American Library Association Honor Award in Children's Literature and was an NPR Best Book of the Year. Mae lives in the San Francisco Bay Area with her husband and two sons. Like the main character in this book, she grew up hearing Filipino folktales and history from her family—though it wasn't until much later that she learned to start asking questions. Find out more about her work at maerespicio.com and follow her on Twitter @maerespicio.

$16.99
ISBN: 9781250305985
Availability: Usually Ships in 1-5 Days
Published: Feiwel & Friends - June 11th, 2019
---

$17.99
ISBN: 9781534439559
Availability: Usually Ships in 1-5 Days
Published: Aladdin - October 15th, 2019
---

$16.99
ISBN: 9780525707578
Availability: Usually Ships in 1-5 Days
Published: Wendy Lamb Books - May 5th, 2020
---