FEMINIST AF
Featuring Brittney Cooper, Susana Morris, and Chanel Craft Tanner
Tues., Oct. 19, 2021 • 1:00pm PT • Live • Online
BUY BOOK WATCH HERE ON EVENT DAY
This event will be broadcast live and does not require registration to attend. To view, please click the "Watch Here" button at the time of the event, or subscribe to our e-newsletter to receive a ten-minute reminder.
Hip-hop and feminism combine in this empowering guide with attitude, from best-selling author Brittney Cooper and founding members of the Crunk Feminist Collective.
Loud and rowdy girls, quiet and nerdy girls, girls who rock naturals, girls who wear weave, outspoken and opinionated girls, girls still finding their voice, queer girls, trans girls, and gender nonbinary young people who want to make the world better: Feminist AF uses the insights of feminism to address issues relevant to today's young womxn.
What do you do when you feel like your natural hair is ugly, or when classmates keep touching it? How do you handle your self-confidence if your family or culture prizes fair-skinned womxn over darker-skinned ones? How do you balance your identities if you're an immigrant or the child of immigrants? How do you dress and present yourself in ways that feel good when society condemns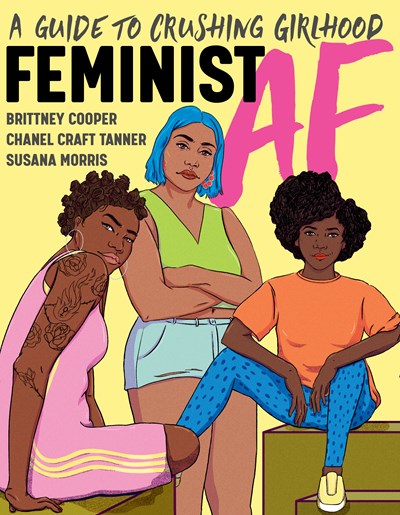 anything outside of the norm? Covering colorism and politics, romance and pleasure, code switching, and sexual violence, Feminist AF is the empowering guide to living your feminism out loud.
Brittney Cooper is an American author, professor, activist, and cultural critic. Her areas of research and work include black women organizations, black women intellectuals, and Hip Hop Feminism in 2013 and 2014, she was named to the Roots.com "Root 100," an annual list of top Black influencers.
Susana Morris is an associate professor of Literature, Media, and Communication at the Georgia Institute of Tech. She is co-founder and contributing writer for the popular feminist blog, The Crunk Feminist Collection. Her first book, Close Kin and Distant Relatives: The Paradox of Respectability in Black Women's Literature, was published in 2014.
Chanel Craft Tanner, PhD, is director of the Center for Women at Emory and founding member of the Crunk Feminist Collective.


$16.95

ISBN: 9781324005056
Availability: On Our Shelves Now - Click Title for More Details
Published: Norton Young Readers - October 5th, 2021
---