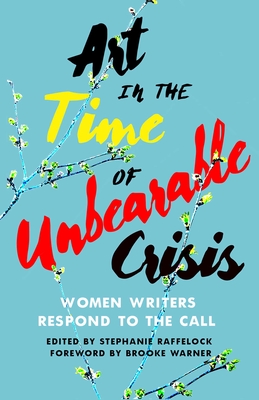 She Writes Press Panel Event
Art in the Time of Unbearable Crisis
Corte Madera Store
Sat., Sept. 10, 2022 • 11:00am PT
Art keeps good alive in the worst of times. In the face of ugliness, pain, and death, it's art that has the power to open us all to a healing imagining of new possibility; it's art that whispers to the collective that even in the ashes of loss, life always grows again. That's why right now, in this tumultuous time of war and pandemic, we need poets more than we need politicians.
In response to the multitude of global crises we're currently experiencing, editor Stefanie Raffelock put out a much-needed call to her writing community for art to uplift and inform the world, and the authors of She Writes Press answered. Art in the Time of Unbearable Crisis — a sometimes comforting, sometimes devastating, but universally relatable collection of prose, poetry, and art about living through difficult times like these — is the result. Addressing topics including grief and loss, COVID-19 and war in Ukraine, the gravity of need and being needed, the broad range of human response to crisis in all its forms, and more, these pieces explore how we can find beauty, hope, and deeper interpretation of world events through art — even when the world seems like it's been turned inside out and upside-down.
Proceeds: Our Commitment
The collection of essays, poetry, and art in this book are meant to feed and nourish our hearts and minds. It's what women do — we feed people. To that end, the proceeds from this work will be donated to the nonprofit World Central Kitchen, an organization conceived by chef José Andrés as a way to feed people affected by natural disasters and war.
World Central Kitchen financially supports food banks and restaurants that provide free food throughout the world.
Moderator
Brooke Warner is publisher of She Writes Press and SparkPress, president of Warner Coaching Inc., and author of Write On, Sisters!, Green-light Your Book, What's Your Book?, and three books on memoir. Brooke is a TEDx speaker, weekly podcaster (of "Write-minded" with co-host Grant Faulkner of NaNoWriMo), and the former Executive Editor of Seal Press. She writes a regular column for Publishers Weekly.
Rita M. Gardner is the author of the award-winning memoir The Coconut Latitudes, published by She Writes Press. She has contributed to several nonfiction anthologies, including The Magic of Memoir, edited by Brooke Warner and Linda Joy Myers. She lives in the San Francisco Bay Area and is also an artist and photographer.
Rita Sever is the author of Leading for Justice and Supervision Matters. She works as a consultant with social justice organizations throughout the US and is proud to be a member of Roadmap Consulting, whose mission is to strengthen social justice organizations through capacity building, peer learning, and field building.

Esther Erman learned English as a second language in kindergarten. This inspired her to study languages and earn a doctorate in language education. A writer, teacher, mother, and grandmother, she lives in the San Francisco Bay Area with her husband. Esther's latest book is Rebecca of Salerno: A Novel of Rogue Crusaders, a Jewish Female Physician, and a Murder.

Donna Stoneham, PhD, is an executive coach, poet, and writer. The author of The Thriver's Edge: Seven Steps to Transform the Way You Live, Love, and Lead (She Writes Press, 2015) and the upcoming book Catch Me When I Fall: Poems of Mother Loss and Healing (She Writes Press, 2023), she lives with her wife and rescue dog in Point Richmond, CA. When Donna's not coaching or writing, she loves hiking, sailing, skiing, and communing with spirit and nature outdoors.
Dr. Evelyn LaTorre, a member of the California Writers Club, has published two memoirs with She Writes Press, Between Inca Walls and Love in Any Language. Articles she has written have appeared in World View, Sanctuary, Storybook Reviews, Conscious Connection, Delta Kappa Gamma Bulletin, and many others. Find other articles and interviews on her website,

www.evelynlatorre.com

.

Linda Joy Myers is the president of the National Association of Memoir Writers and the author of two books about the craft of writing memoir. Her own award-winning memoirs, Don't Call Me Mother and Song of the Plains, were published by She Writes Press. Linda Joy looks forward to the publication of her first novel, The Forger of Marseille, in spring 2023.
Location:
Book Passage Corte Madera
51 Tama Vista Blvd

$17.95

ISBN: 9781647424893
Availability: On Our Shelves Now
Published: She Writes Press - June 1st, 2022
---