Saturday, July 14, 2018 - 11:00am
In the beginning, there were three colors...Reds, Yellows, and Blues.
All special in their own ways, all living in harmony -- until one day, a Red says "Reds are the best " and starts a color kerfuffle. When the colors decide to separate, is there anyting that can change their minds?
A Yellow, a Blue, and a never-before-seen color might just save the day in Mixed -- an inspiring book about color, tolerance, and embracing differences.
Arree Chung is the author and illustrator of Out! and the Ninja! series, which includes Ninja!, Ninja! Attack of the Clan, and Ninja Claus! You can usually find him playing basketball or riding his bike near his home in the San Francisco Bay Area.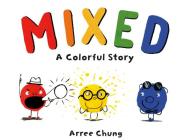 $17.99
ISBN: 9781250142733
Availability: Usually Ships in 1-5 Days
Published: Henry Holt and Co. (BYR) - July 3rd, 2018
The reds, the yellows, and the blues all think they're the best in this vibrant, thought-provoking picture book from Arree Chung, with a message of acceptance and unity.

In the beginning, there were three colors . . .

Reds,

Yellows,

and Blues.
---