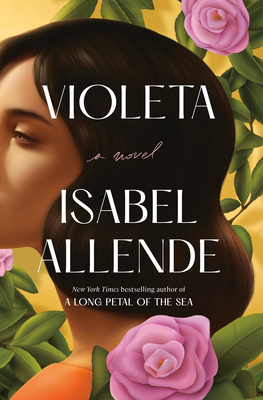 Isabel Allende
in conversation with Victoria Alonso,
President of Production for Marvel Studios
Violeta
Signed Book with Ticket
Sat., Jan. 29 • 4:00pm PT • Ticketed Event - $40 • Online • Free Media Mail Shipping
This event will be recorded and shared with all ticketholders within 2 days of the event. It will then be posted to the archive after 10 days.
This sweeping novel from the New York Times bestselling author of A Long Petal of the Sea tells the epic story of Violeta Del Valle, a woman whose life spans one hundred years and bears witness to the greatest upheavals of the twentieth century.
Violeta comes into the world on a stormy day in 1920, the first girl in a family with five boisterous sons. From the start, her life is marked by extraordinary events, for the ripples of the Great War are still being felt, even as the Spanish flu arrives on the shores of her South American homeland almost at the moment of her birth.
Through her father's prescience, the family will come through that crisis unscathed, only to face a new one as the Great Depression transforms the genteel city life she has known. Her family loses everything and is forced to retreat to a wild and beautiful but remote part of the country. There, she will come of age, and her first suitor will come calling.
She tells her story in the form of a letter to someone she loves above all others, recounting times of devastating heartbreak and passionate affairs, poverty and wealth, terrible loss and immense joy. Her life is shaped by some of the most important events of history: the fight for women's rights, the rise and fall of tyrants, and ultimately not one, but two pandemics.
Through the eyes of a woman whose unforgettable passion, determination, and sense of humor carry her through a lifetime of upheaval, Isabel Allende once more brings us an epic that is both fiercely inspiring and deeply emotional.
Isabel Allende won worldwide acclaim in 1982 with the publication of her first novel, The House of the Spirits. Since then, she has authored twenty-six bestselling and critically acclaimed books, which have been translated into more than forty-two languages. In addition to her work as a writer, Allende devotes much of her time to human rights causes. In 1996, following the death of her daughter, Paula Frias, she established a charitable foundation in her honor, which has awarded grants to more than one hundred nonprofits worldwide on behalf of women and girls. In 2014, President Barack Obama awarded Allende the Presidential Medal of Freedom, the nation's highest civilian honor, and in 2018 she received the Medal for Distinguished Contribution to American Letters from the National Book Foundation. She has also received PEN Center USA's Lifetime Achievement Award. Raised in Chile, she now lives in California.
A native of Buenos Aires, Victoria Alonso serves as President of Production for Marvel Studios and as an executive producer of all Marvel films which have amassed over $23 billion worldwide including "Shang-Chi", "Black Widow, "Avengers: Endgame," "Captain America," "Guardians of the Galaxy," "Thor," "Black Panther," "Captain Marvel" as well as most recently, "Eternals". Alonso began her career in visual effects & production – from PA to VFX Producer and eventually joining Marvel as EVP of visual effects and post production. Alonso has become an important voice in Hollywood as a producer, a Latina, and a senior female executive. She was named one of People en Español Magazine's top "Poderosa" Most Influential Hispanic Women in 2019 and 2020. On multiple occasions, she has been named to Variety's Power of Women L.A. Impact Report and The Hollywood Reporter's Women in Entertainment Power 100. Alonso was honored in 2015 with the Muse Award for Outstanding Vision and Achievement from the New York Women in Film & Television. She was also the first woman to be presented with the Harold Lloyd Award from the Advanced Imaging Society, which is given to a filmmaker who has created a body of work and specific achievements in 3-D that advanced the motion picture art form. In 2017, she was the first woman to be honored with the Visionary Award at the 15th Annual VES Awards for her advancement of unforgettable storytelling through visual effects.
Isabel Allende photo courtesy of the author; Victoria Alonso photo courtesy of the author