Why would someone sell nearly everything he owns, then pack up and travel for three years, alone, on a motorcycle? One day Allan Karl woke up to discover that he was unemployed and his marriage had ended in divorce.
Allan looked at these forks in the road of his life as an opportunity to both follow a life-long dream and pursue his passions. He hopped on his motorcycle and traveled around the world. After three years and 62,000 miles of riding, through 35 countries on 5 continents, he returned home only to set out on another journey--to share the truths he'd uncovered and the lessons learned during his adventure around the world. Through stories, color photos, and the flavors of real local food, Forks brings his adventure to life and the world to your table: the kindness of strangers, the beauty of humanity, the colors of culture, and the powerful gift of human connection.
Allan Karl is an author, photographer, marketing entrepreneur, professional keynote speaker, and committed adventurer. He is also principal of WorldRider Productions where he focuses on speaking, publishing, coaching, and creating content that brings to life his stories and experiences around the world.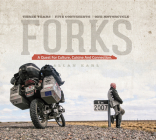 for information about purchasing this book, please contact orders@bookpassage.com
ISBN: 9780989441810
Published: WorldRider Publishing & Press - June 3rd, 2014
---