Conversations with Authors
Sun., June 20, 2021 • 1:00pm PT • Live • Online


New York Times bestselling author Alka Joshi returns to the world of her sensational debut, The Henna Artist, in The Secret Keeper of Jaipur.
In this rich and lavishly told standalone tale, Henna artist Lakshmi arranges for her protégé, Malik, to intern at the Jaipur Palace.
It's the spring of 1969, and Lakshmi, now married to Dr. Jay Kumar, directs the Healing Garden in Shimla. Malik has finished his private school education. At twenty, he has just met a young woman named Nimmi when he leaves to apprentice at the Facilities Office of the Jaipur Royal Palace. Their latest project: a state-of-the-art cinema.
Malik soon finds that not much has changed as he navigates the Pink City of his childhood. Power and money still move seamlessly among the wealthy class, and favors flow from Jaipur's Royal Palace, but only if certain secrets remain buried. When the cinema's balcony tragically collapses on opening night, blame is placed where it is convenient. But Malik suspects something far darker and sets out to uncover the truth. As a former street child, he always knew to keep his own counsel; it's a lesson that will serve him as he untangles a web of lies.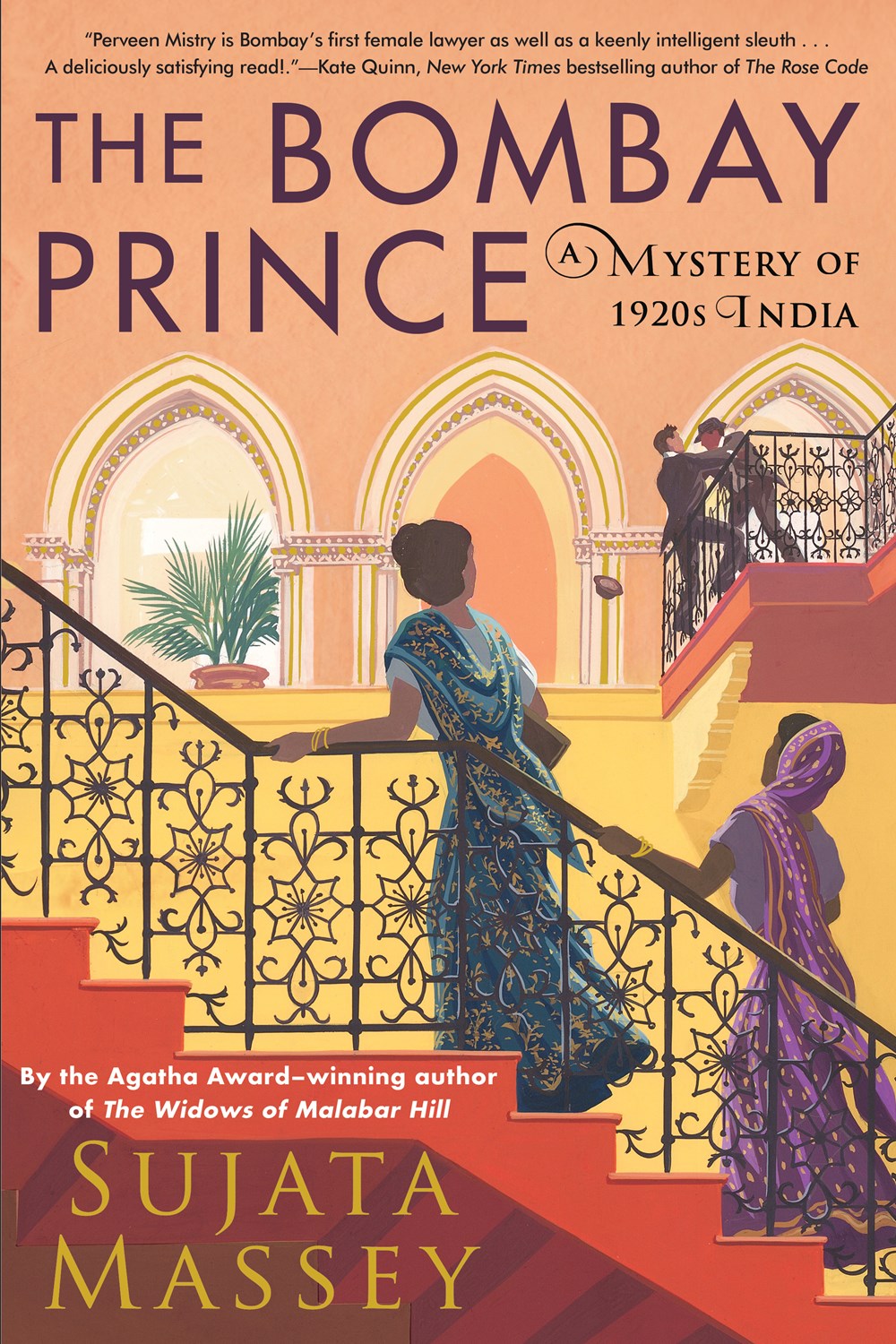 Bombay's first female lawyer, Perveen Mistry, is compelled to bring justice to the family of a murdered female Parsi student just as Bombay's streets erupt in riots to protest British colonial rule. Sujata Massey is back with this third installment to the Agatha and Mary Higgins Clark Award-winning series set in 1920s Bombay.
November 1921. Edward VIII, Prince of Wales and future ruler of India, is arriving in Bombay to begin a fourmonth tour. The Indian subcontinent is chafing under British rule, and Bombay solicitor Perveen Mistry isn't surprised when local unrest over the royal arrival spirals into riots. But she's horrified by the death of Freny Cuttingmaster, an eighteen-year-old female Parsi student, who falls from a second-floor gallery just as the prince's grand procession is passing by her college.
Freny had come for a legal consultation just days before her death, and what she confided makes Perveen suspicious that her death was not an accident. Feeling guilty for failing to have helped Freny in life, Perveen steps forward to assist Freny's family in the fraught dealings of the coroner's inquest. When Freny's death appears suspicious, Perveen knows she can't rest until she sees justice done. But Bombay is erupting: as armed British secret service march the streets, rioters attack anyone with perceived British connections and desperate shopkeepers destroy their own wares so they will not be targets of racial violence. Can Perveen help a suffering family when her own is in danger?
Alka Joshi was born in India and raised in the U.S. since the age of nine. She has a BA from Stanford University and an MFA from California College of Arts. At age 62, Joshi published her debut novel, The Henna Artist, which immediately became a New York Times bestseller, a Reese Witherspoon Bookclub pick, was Longlisted for the Center for Fiction First Novel Prize, and is being developed into an episodic series by Miramax TV. The sequel, The Secret Keeper of Jaipur, premieres June 2021, and will be followed by the third book in the trilogy in 2022.
Sujata Massey is the author of fifteen mystery and suspense novels, including the Perveen Mistry legal mystery series set in 1920s Bombay. The first Perveen novel, The Widows of Malabar Hill, won the Agatha, Macavity, Mary Higgins Clark, and Lefty awards of 2019 and was optioned for film and television. Sujata's newest book featuring Perveen is titled The Bombay Prince and takes place amidst the rioting spurred by the 1921 visit to India by Edward VIII, Prince of Wales. Sujata lives in Baltimore, Maryland, and travels to India when she can to research more books in the Perveen series.
Alka Joshi photo by Garry Bailey; Sujata Massey photo courtesy of author

$27.99

ISBN: 9780778331858
Availability: Usually Ships in 1-5 Days
Published: Mira Books - June 22nd, 2021
---

$27.95
Email or call for price
ISBN: 9781641291057
Published: Soho Crime - June 1st, 2021
---