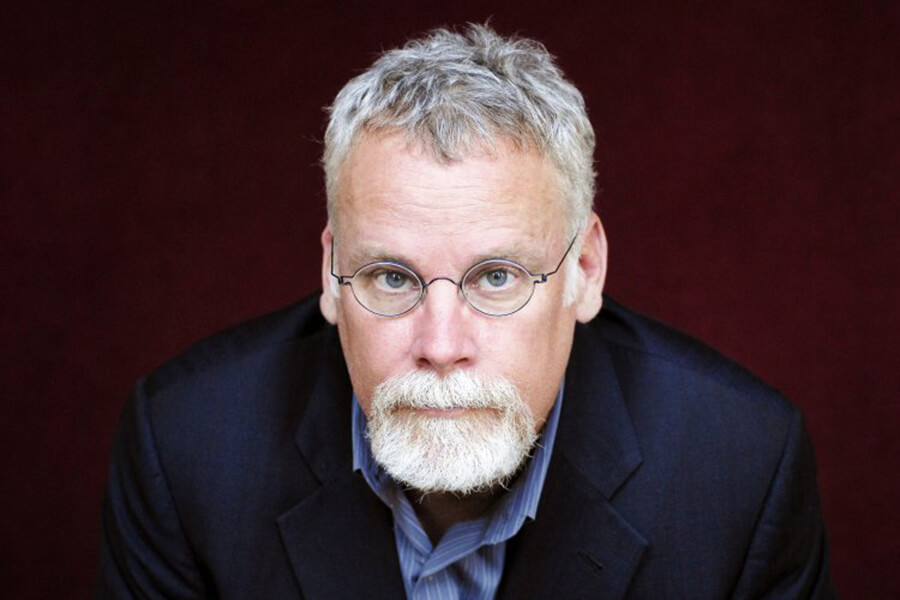 Sunday, June 7th • 7:00pm ET/4:00pm PT
Michael Connelly
in conversation with Bill Petrocelli
Michael Connelly is the bestselling author of over thirty novels and one work of nonfiction. With over seventy-four million copies of his books sold worldwide and translated into forty foreign languages, he is one of the most successful writers working today. His newest release, Fair Warning, returns readers to the world of journalist Jack McEvoy as he tracks a serial killer who has been operating completely under the radar—until now.
A former newspaper reporter who worked the crime beat at the Los Angeles Times and the Fort Lauderdale Sun-Sentinel, Michael has won numerous awards for his journalism and his fiction. His very first novel, The Black Echo, won the prestigious Mystery Writers of America Edgar Award for Best First Novel in 1992. In 2002, Clint Eastwood directed and starred in the movie adaptation of Connelly's 1998 novel, Blood Work. In March 2011, the movie adaptation of his #1 bestselling novel, The Lincoln Lawyer, hit theaters worldwide starring Matthew McConaughey as Mickey Haller. His most recent #1 New York Times bestsellers include The Night Fire, Dark Sacred Night, Two Kinds Of Truth, The Late Show, The Wrong Side of Goodbye, The Crossing, The Burning Room, The Gods of Guilt, The Black Box, and The Drop. He is the executive producer of Bosch, an Amazon Studios original drama series based on his bestselling character Harry Bosch, starring Titus Welliver and streaming on Amazon Prime. He is also the executive producer of the documentary films, Sound of Redemption: The Frank Morgan Story and Tales Of the American. He spends his time in California and Florida.
Below, please find links to purchase a selection of Michael's books.

$29.00
ISBN: 9780316539425
Availability: Usually Ships in 1-5 Days
Published: Little, Brown and Company - May 26th, 2020
The hero of The Poet and The Scarecrow is back in this thriller from #1 New York Times bestselling author Michael Connelly.
---

$16.99
ISBN: 9781538733721
Availability: Usually Ships in 1-5 Days
Published: Grand Central Publishing - April 14th, 2020
Harry Bosch and LAPD Detective Rene Ballard come together again on the murder case that obsessed Bosch's mentor in this New York Times Best Crime Novel of the Year and Los Angeles Times Book Prize finalist.

---

$9.99

ISBN: 9781538731765

Availability: Usually Ships in 1-5 Days

Published: Vision - October 8th, 2019

Harry Bosch teams up with LAPD Detective Rene Ballard to face the unsolved murder of a runaway, and the fight to bring a killer to justice.

---

$15.99

ISBN: 9781455524174

Availability: Usually Ships in 1-5 Days

Published: Grand Central Publishing - May 1st, 2018

Exiled from the LAPD, Harry Bosch must clear his name, uncover a ring of prescription drug abuse, and outwit a clever killer before it's too late.

---

$9.99

ISBN: 9781455524228

Availability: Usually Ships in 1-5 Days

Published: Grand Central Publishing - August 7th, 2018

In this first installment of the Rene Ballard series, #1 bestselling author Michael Connelly introduces a "complicated and driven" young detective fighting to prove herself on the LAPD's toughest beat (The New York Times).

---

$9.99

ISBN: 9781455524204

Availability: Usually Ships in 1-5 Days

Published: Vision - October 31st, 2017

In this #1 New York Times bestseller, California's newest private investigator, Detective Harry Bosch, must track down a missing heir while helping a police department connect the dots on a dangerous cold case.

---

$9.99

ISBN: 9781455524150

Availability: Usually Ships in 1-5 Days

Published: Vision - October 25th, 2016

In this "tense" thriller and #1 New York Times bestseller, Detective Harry Bosch teams up with Lincoln Lawyer Mickey Haller to track down a killer who just might find them first (Wall Street Journal).

---

$9.99

ISBN: 9781455524181

Availability: Usually Ships in 1-5 Days

Published: Vision - October 27th, 2015

In this #1 New York Times bestseller, Detective Harry Bosch and his rookie partner investigate a cold case that gets very hot . . . very fast.

In the LAPD's Open-Unsolved Unit, not many murder victims die a decade after the crime.

---

$10.00

ISBN: 9780446556798

Availability: Usually Ships in 1-5 Days

Published: Vision - October 28th, 2014

Defense attorney Mickey Haller is forced to bend the law until it breaks when he is hired to defend a man accused of killing a prostitute in this novel of courtroom suspense, the "best one yet" (The Washington Post).


---

$10.00

ISBN: 9780446556729

Availability: Usually Ships in 1-5 Days

Published: Grand Central Publishing - October 15th, 2013

In this "superb" thriller, Detective Harry Bosch links the bullet from a recent crime to the unsolved killing of a young female photographer during the 1992 L.A. riots (Wall Street Journal).

---

$9.99

ISBN: 9781538733394

Availability: Usually Ships in 1-5 Days

Published: Grand Central Publishing - March 24th, 2020

In his fierce search for a new case, Detective Harry Bosch discovers a killer hiding behind suspicious DNA evidence -- and a political conspiracy that could destroy the Los Angeles Police Department.


---

$9.99

ISBN: 9781455567430

Availability: Usually Ships in 1-5 Days

Published: Grand Central Publishing - September 27th, 2016

After taking on a foreclosure case, defense attorney Mickey Haller must prove his client's innocence -- but first he must follow a trail of black market evidence to its sinister end.
Mickey Haller has fallen on tough times. He expands his business into foreclosure defense, only to see one of his clients accused of killing the banker she blames for trying to take away her home.


---

$9.99

ISBN: 9781455567416

Availability: Backordered

Published: Grand Central Publishing - August 30th, 2016

The stakes have never been higher: when DNA evidence frees a sadistic killer, defense attorney Mickey Haller and LAPD Detective Harry Bosch must put him behind bars before he strikes again.

---

$10.00

ISBN: 9780446561952

Availability: Usually Ships in 1-5 Days

Published: Vision - August 1st, 2010

After what seems like a routine murder investigation, LAPD Detective Harry Bosch finds himself in Hong Kong facing the highest-stakes case of his life: bringing his kidnapped daughter home.
Harry Bosch is assigned a homicide call in South L.A. that takes him to Fortune Liquors, where the Chinese owner has been shot to death behind the counter in an apparent robbery.


---

$16.99

ISBN: 9781478948292

Availability: Usually Ships in 1-5 Days

Published: Grand Central Publishing - September 25th, 2018

FROM THE #1 BESTSELLING AUTHOR OF THE BOSCH SERIES AND THE LINCOLN LAWYER SERIES

"An addictive read that, once it grabs you in those first few pages, won't let go of you."--Boston Globe


---

$9.99

ISBN: 9781455567393

Availability: Usually Ships in 1-5 Days

Published: Grand Central Publishing - July 26th, 2016

Defense attorney Mickey Haller and Detective Harry Bosch must either work together or die as they investigate a Hollywood lawyer's murder in this "epic page-turner" (Library Journal).

---

$10.00

ISBN: 9781455550739

Availability: Backordered

Published: Grand Central Publishing - April 28th, 2015

In his first case with the Homicide Special Squad, LAPD Detective Harry Bosch must follow his instincts to stop a killer who could destroy the entire city -- even as the FBI works against him.

---

$10.00

ISBN: 9781455550722

Availability: Usually Ships in 1-5 Days

Published: Grand Central Publishing - February 24th, 2015

Just as he's on the verge of cracking an unsolved case, Detective Harry Bosch discovers an old clue that could have saved lives -- and the guilt begins to haunt him.

---

$9.99

ISBN: 9781538751527

Availability: Backordered

Published: Grand Central Publishing - August 4th, 2020

Soon to be a CBS TV series -- the #1 bestselling legal thriller

has charismatic defense attorney Mickey Haller taking on a slam-dunk court case involving a Beverly Hills playboy -- but as it spirals into a nightmare, he finds himself in a fight for his life.


---

ISBN: 9781455550715

Availability: Special Order

Published: Grand Central Publishing - December 16th, 2014

In this #1 New York Times bestseller, Detective Harry Bosch joins LA's elite Open/Unsolved Unit to help piece together the mysterious death of a teenage girl.


---

$10.00

ISBN: 9781455550708

Availability: Backordered

Published: Grand Central Publishing - November 25th, 2014

In the depths of the Nevada desert, FBI agent Rachel Walling and former LAPD Detective Harry Bosch must confront The Poet, a terrifying serial killer who leads them down a dark and twisted path.

---

$10.00

ISBN: 9781455550692

Availability: Usually Ships in 1-5 Days

Published: Grand Central Publishing - September 30th, 2014

In this New York Times bestseller, retired LAPD detective Harry Bosch wants justice for a murdered production assistant -- but without his police badge, can he take down a powerful and ruthless killer?


---

$8.99

ISBN: 9780446611626

Availability: Usually Ships in 1-5 Days

Published: Vision - September 1st, 2003

The phone messages waiting for Henry Pierce clearly aren't for him: "Where is Lilly? This is her number. It's on the site." Pierce has just moved into a new apartment, and he's been "chasing the dime"--doing all it takes so his company comes out first with a scientific breakthrough worth millions. But he can't get the messages for Lilly out of his head.

---

$10.00

ISBN: 9781455550685

Availability: Backordered

Published: Grand Central Publishing - July 29th, 2014

When a dog unearths evidence of a murder in the Hollywood Hills, Detective Harry Bosch must tackle a cold case that sparks memories he's tried to forget.

---

$10.00

ISBN: 9781455550678

Availability: Usually Ships in 1-5 Days

Published: Grand Central Publishing - April 29th, 2014

LAPD Detective Harry Bosch crosses paths with FBI profiler Terry McCaleb while investigating the murder of a Hollywood actress.

---

$19.99

ISBN: 9780446694254

Availability: Usually Ships in 1-5 Days

Published: Grand Central Publishing - May 1st, 2004

New York Times bestselling author Michael Connelly writes novels of brilliantly original suspense. In this electrifying tour de force, he takes us into a world of extremes: too much criminality, too much money, and too many ways to die.
In L.A.

---

$9.99

ISBN: 9781538762714

Availability: Usually Ships in 1-5 Days

Published: Grand Central Publishing - March 6th, 2018

In this "superbly paced" New York Times bestseller (Esquire), LAPD detective Harry Bosch is trying to solve a high-profile lawyer's murder. But first he must face the public's suspicion . . . and his darkest fears.

---

$15.99

ISBN: 9781478948322

Availability: Usually Ships in 1-5 Days

Published: Grand Central Publishing - March 26th, 2019

From the #1 bestselling author of the Harry Bosch and the Lincoln Lawyer series and who "is the master of the universe in which he lives" (Huffington Post), comes the gripping novel that inspired the film starring Clint Eastwood.


---

$10.00

ISBN: 9781455550654

Availability: Usually Ships in 1-5 Days

Published: Grand Central Publishing - October 15th, 2013

Back on the job after an involuntary leave of absence, LAPD homicide detective Harry Bosch is ready for a challenge -- but a murderous Las Vegas crime ring might prove to be more than he bargained for.


---

ISBN: 9781538718667

Availability: Hard to Find

Published: Grand Central Publishing - March 17th, 2020

From the #1 bestselling author of the Harry Bosch and Lincoln Lawyer series -- an electrifying standalone thriller that breaks all the rules! With an introduction by Stephen King.


---

$10.00

ISBN: 9781455550647

Availability: Backordered

Published: Grand Central Publishing - October 15th, 2013

Suspended from his job with the LAPD, Harry Bosch must face the darkest parts of his past to track down his mother's killer . . . even if it costs him his life.

---

$10.00

ISBN: 9781455550630

Availability: Usually Ships in 1-5 Days

Published: Grand Central Publishing - October 15th, 2013

Detective Harry Bosch was sure he'd shot the serial killer responsible for a string of murders in LA . . . but now, a new crime makes him question his convictions.

---

$10.00

ISBN: 9781455550623

Availability: Usually Ships in 1-5 Days

Published: Grand Central Publishing - October 15th, 2013

When an LAPD narcotics officer is found with a fatal bullet wound and a suicide note, Detective Harry Bosch follows a bloody trail of drug murders across the Mexico border.

​​Working the case, LAPD detective Harry Bosch is reminded of the primal police rule he learned long ago: Don't look for the facts, but the glue that holds them together.

---

$10.00

ISBN: 9781538744390

Availability: Usually Ships in 1-5 Days

Published: Grand Central Publishing - April 25th, 2017

An LAPD homicide detective must choose between justice and vengeance as he teams up with the FBI in this "thrilling" novel filled with mystery and adventure (New York Times Book Review).


---