The Crypto Tax Book: If You Own Crypto, Buy This Book So You Can Keep It. (Hardcover)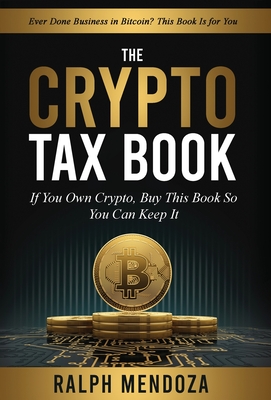 $29.99

Usually Ships in 1-5 Days
Description
---
How to Keep Your Crypto, Cut Your Taxes, and Don't Get Audited
You've been playing with cryptocurrencies. Maybe you've had a few losses, but some bigger wins. Are you sure you get to keep them?
If you've ever dabble in DeFi, you may owe more than $4,000 and not even know it until you get a friendly little notice from the Internal Revenue Service. Then it's pay up, be audited, or worse.
Most cryptocurrency HODLers have no clue we're required to complete online IRS forms to report all crypto trades-and disclose taxes owed. But taxes are hard, and nobody told you you had to do any of this.
That's why cryptocurrency tax expert and enrolled agent Ralph Mendoza wrote The Crypto Tax Book. Mendoza has protected wealthy families from overpaying and underpaying taxes for over twenty years. The Crypto Tax Book spills his secrets to help readers avoid the pitfalls of the TradFi system and its supreme overlord, the United States Treasury.
The Crypto Tax Book reveals . . .
Crypto's taxable events most CPAs don't even know about
How to legally lower tax liability with every transaction
The essential tax forms every crypto holder needs to complete
What regulations like capital gains apply to crypto
The near-future of crypto and the incoming stricter rules
Whether you're new to crypto and own only a few dollars worth, you read the Bitcoin white paper years ago and HODLed ever since, or you're a bona fide crypto whale, The Crypto Tax Book teaches you what don't already know to save money and stay out of prison.