You Are Not Alone: Encouragement for the Heart of a Military Spouse (Paperback)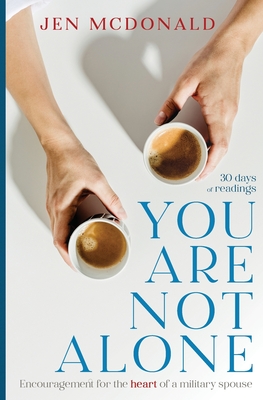 $12.95

Usually Ships in 1-5 Days
Description
---
"If the military wanted you to have a spouse, they would have issued you one." -Uncle Sam
When you marry a military member, your life is suddenly no longer your own. You not only marry the one you love, but also a whole new way of life-one filled with separations, moves, deployments, and other challenges.
How to cope with this ever-changing life? Jen McDonald is right there with you. For three decades as a military spouse, she was in the trenches of this unique military world and carved out her own rewarding life, all while moving around the globe and raising four children.
In You Are Not Alone: Encouragement for the Heart of a Military Spouse, Jen offers a helping hand and a whisper of "You've got this " as you make your own way. She celebrates the great moments with you, commiserates when it's not so easy, and points you to hard-won wisdom and helpful resources. Most of all, she reminds you that you're not alone on this military spouse journey.
Each of the 30 daily readings is written from the perspective of faith. In her warm, authentic style, Jen offers practical tips ("Basic Training for Spouses"), related Scripture, and journal prompts for further reflection. Whether it's a deployment, move, or raising military kids, you'll find real-life inspiration and hope from someone who's been there.
Since its first publication in 2016, You Are Not Alone has resonated with military spouses, both new and experienced, and ranked as a bestseller in the Military Family and Christian Devotionals category.
What Others Are Saying
"Jen McDonald's words often bring tears and laughter of reliability within the same sentence. For years, she has been delighting audiences with the knowledge that they are not alone on this journey. Once again, she does it here."
- Kate Dolack, former Editor-in-Chief, Military Spouse Magazine
"It is not often that a book can reach the new military spouse as well as ones like myself whose spouses are nearing retirement, but You Are Not Alone has done just that. The author does a fantastic job of drawing you in with very transparent examples of her journey, has you ask yourself how you can grow or change, and closes with relevant Scripture and a thoughtful prayer. This would have been great as a brand-new Army wife, and yet here is EXACTLY what I needed as the looming retirement has me feeling unstable. You Are Not Alone: Encouragement for the Heart of a Military Spouse is exactly that-an amazing encouragement grounded in experience, wisdom, and Scripture. I will be buying this for friends in all seasons of life."
- Tara Howes, Army spouse and co-host of Military Life Radio