Evidence Based Inclusion; It's Time to Focus on the Right Needle (Paperback)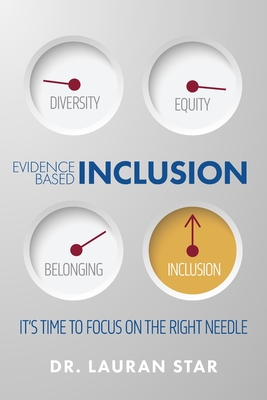 $19.99

Usually Ships in 1-5 Days
Description
---
It's time to stop throwing diversity and inclusion initiatives and programs at the wall to see what sticks or moves the needle within your organization. Instead, let's focus on evidence-based initiatives that will drive your organization to thrive.
It's time to focus on the RIGHT needle - Inclusion. An inclusive culture is the foundation for achieving the benefits of diversity - NOT the other way around.
We have been focused on "diversity" in the workplace for well over 60 years, with no evidence that diversity should be the focal point of our efforts, or that there are any business gains from those efforts. Organizations in the US spend well over $80 billion annually on diversity initiatives, according to MIT, yet again with no evidence of the return on investment.
Using a straightforward evidence-based approach rooted in experience and research, Dr. Lauran Star explains that without a culture of inclusion, the benefits of any money spent on improving diversity metrics will be short-lived - and she has the case studies to prove it. If your diverse employees don't feel valued or included, they will leave. In Evidence-Based Inclusion: It's Time to Focus on the Right Needle, you'll learn how your organization can successfully navigate the diversity landscape, avoid falling for the faddish buzzword of the month ("belonging," anyone?), and create a sustainable inclusion and diversity strategy and culture that brings a true return on investment.
The proven practices and solutions in Dr. Lauran Star's Inclusion Paradigm will help your organization create a framework for sustainable success. Making the pivot to inclusion will drive more than diversity and equity-it will also drive better organizational growth, performance, job satisfaction, employee retention and more. Inclusion takes the whole organization - not just one person or an overloaded HR department -- and is an ongoing process. Use the Inclusion Paradigm to guide your organization on its inclusion journey.