The Big Book of Dad Jokes: Terribly Good Personalized Dad Joke Book (Paperback)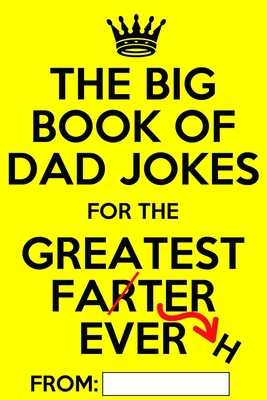 for information about purchasing this book, please contact orders@bookpassage.com
Description
---
Over 300 jokes, more than 100 pages, written by the funniest fathers in the country
With From: __________ on the cover to make the perfect gift from you.
Plus space to write a personalized dedication to your dad on page one.
Over 300 family-friendly jokes to make your dad's day. He'll love these terrible rib-ticklers - specially selected by a panel of the funniest fathers.
A man has been stealing wheels off of police cars.
Police are working tirelessly to catch him.
You heard of that new band 999-Megabytes?
They're good but they haven't got a gig yet.
My wife thinks I'm addicted to brake fluid.
I keep telling her I could stop at any time.
I've been happily married for four years.
Out of a total of 10.
I've been diagnosed with a disease that makes me tell airport jokes.
The doctor says it's terminal.
Why did the baker go to work?
He kneads the dough.
Someone threw a bottle of mayo at me.
I was like what the Helman
To whoever stole my copy of Microsoft Office . . .
I will find you. You have my Word
Dad jokes make you cringe and groan - but also make your dad laugh out loud. This dad joke book makes the perfect Father's Day gift for the dad who loves life and loves to laugh. A perfect dad gift from son, daughter or wife.