Don't Laugh Challenge Easter Edition: The Funniest LOL Jokes, One-Liners, Riddles, Brain Teasers, Knock-Knock Jokes, Fun Facts, Would You Rather, Tric (Paperback)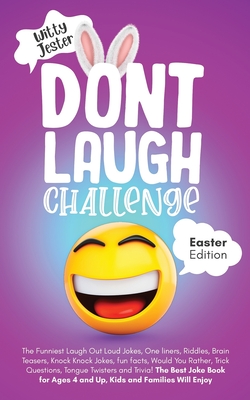 for information about purchasing this book, please contact orders@bookpassage.com
Description
---
Fill Your House With Laughs and Giggles and Enjoy Hours of Fun Family Time.
If you're looking to have a lively, happy Easter, filled with fun family bonding activities, look no further
This year, put a ban on laptops, phones, and tablets, and reach for this amazing collection of jokes, puzzles, and 'Would You Rather?' questions.
Three different types of games full of Easter themed content guarantee you hours of screen-free fun and laughter.
Numerous riddles, knock-knock jokes, and tongue twisters will awaken your kid's competitive spirit, develop their logical and cognitive thinking, and boost their emotional intelligence.
Find out who tells the best jokes, and who's the top brainiac
In Don't Laugh Challenge - Easter Edition, you will discover:
Easter themed jokes and one-liners for playing the Don't Laugh Challenge -- find out who can't suppress the giggles, and who's the King or Queen of Laughs
Creative 'Would You Rather?' questions that will get everyone thinking over absurd, hilarious choices
Imaginative questions that will get your kid talking and sharing their opinions on different subjects -- prepare to discover a whole new side of your child
Tricky tongue twisters to boost your kid's pronunciation skills and expand their vocabulary (beware: some may even twist your own tongue )
Numerous riddles, puzzles, and brain teasers that will test both knowledge and imagination
Fun and educational trivia questions that will expand your child's knowledge on Easter, animals, nature, planets, and a whole lot more
Plenty of delightful Easter facts that will turn this holiday into your family's favorite time of the year
And much more.
Entertaining your kids can sometimes be dreadful (yes, we dared to say it ).
However, with this collection of jokes and games, even adults will have to fight giggles and roars of laughter
If you want to create a fun family-bonding atmosphere this Easter, then scroll up and click the "Add to Cart" button right now.