Eight Days: The True Story of an American Prisoner of War and the Miracles that Saved Him (Paperback)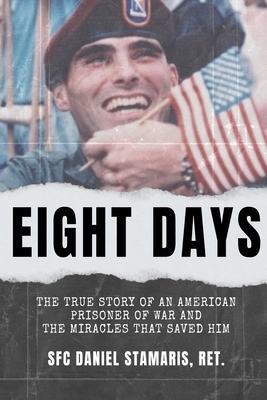 $17.99

Usually Ships in 1-5 Days
Description
---
Eight Days: The True Story of an American Prisoner of War and the Miracles that Saved Him is a heart-wrenching and inspiring account of one man's incredible journey through war and captivity.
In the midst of the Gulf War, SFC (Retired) Daniel Stamaris was serving in the U.S. Army's 82nd Airborne Division when he was captured by the Iraqi Republican Guard. For eight long and grueling days, he endured brutal torture and unimaginable conditions as a prisoner of war.
But despite the darkness and despair of his situation, Daniel never lost hope. Through his unwavering faith, determination, and sheer willpower, he clung to life and fought to survive. And in the end, it was a series of miraculous events that ultimately saved him from his captors and brought him home to his family.
In Eight Days, Daniel shares his remarkable story in vivid detail, taking readers on a harrowing and unforgettable journey through the horrors of war and the strength of the human spirit. With gripping narrative and raw emotion, he tells of the physical and psychological torture he endured, the unlikely friendships he formed with fellow prisoners, and the moments of hope that sustained him through it all.
Above all, Eight Days is a testament to the power of faith, love, and the indomitable human spirit. It is a story that will inspire and uplift readers, reminding us all that even in the darkest of times, miracles can happen, and hope can prevail.