Unlock Your Macro Type: - Identify Your True Body Type - Understand Your Carb Tolerance - Accelerate Fat Loss (MP3 CD)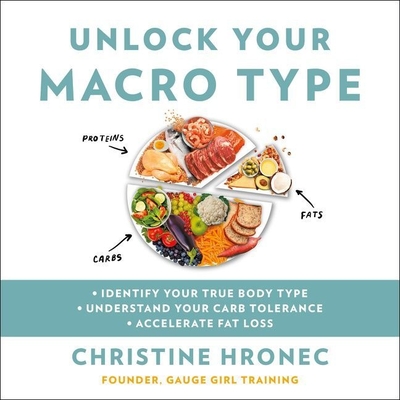 $41.99
Email or call for price
Description
---
Scientist, fitness champion, and founder of Gauge Girl Training Christine Hronec shares a customizable plan to lose weight and shed fat by eating according to your macro type, a profile based on your body type and personal carb tolerance. Unlock your macro type and end the battle with the scale--for good.
One-size-fits-all diets don't work, and neither does counting calories alone. Biochemical Engineer and fitness expert Christine Hronec has discovered that the key to fat loss and feeling your best is eating the optimum ratio of macronutrients--protein, carbohydrates, and fat--for your unique body.
Through years of coaching and research, Hronec has pinpointed five macro types, a bio-individual nutritional blueprint based on your body type and carb tolerance. Rooted in science and backed by real-world results, Unlock Your Macro Type reveals:
The secret code of fat, and why you need to eat fat to burn fatWhy drastic carb-cutting can backfire for many macro typesThe essential macronutrient most people don't get enough of each dayThe single biggest factor that dictates how to eat for your macro type
Complete with quizzes and tailor-made menus, recipes, and workouts, Hronec's personalized plan is designed to get you the best results based on your body, your metabolism, and your goals.
Supplemental enhancement PDF accompanies the audiobook.